Kirkland, Wash. — No league MVP Shaun Alexander. No star receiver Bobby Engram. Now, no Pro Bowl quarterback Matt Hasselbeck.
No chance for the Seattle Seahawks?
"It's very much a measure of what your team is really like at its core," coach Mike Holmgren said.
One might think Seattle's increasingly ominous test at Kansas City on Sunday without three of its most important players would be Holmgren's ultimate challenge.
Nope. That came at Lincoln High School in San Francisco, in 1971.
"I used to coach high school football. Freshmen. Now you're talking about ultimate challenges," Holmgren said. "First, we had to find the jock strap and where their socks were. And then you get to the football part of it."
Still, the former history teacher knows he's going to learn something about his Seahawks in their depleted state starting Sunday against the Chiefs (3-3).
Quarterback Seneca Wallace, in his fourth season, makes his first NFL start while Hasselbeck (sprained knee ligament), Alexander (broken foot) and probably Engram (thyroid condition) all watch.
Then it's home for both Oakland (1-5) and St. Louis (4-2), the latter the NFC West co-leaders with Seattle. Then, Hasselbeck is expected back.
At first glance, the Seahawks appear to be afflicted with same injury curse that has doomed the last four Super Bowl runners-up to sub-.500 pratfalls the following season. But the Seahawks are reciting, as if on cue, that they have the same record now that they had last season after six games en route to Seattle's first Super Bowl.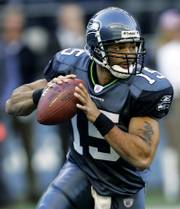 That was with Hasselbeck, Alexander and Engram.
Yet unlike with most of those recent, post-Super Bowl struggles, the Seahawks are scuffling inside perhaps the NFL's weakest division. With San Francisco (2-4) still San Francisco and Arizona (1-6) even worse than usual, the Rams are Seattle's only threat. And the Seahawks have already edged them, 30-28 on the game's final play, without Alexander and Engram.
"We're struggling," Holmgren said. "The problem is we're comparing it with what we did last year, and last year we were so good. Now obviously we don't have Shaun. Everyone knows that. I still expect us to do a little bit better than what we've done."
The concern is that Seattle has sandwiched that escape against St. Louis with a 37-6 loss at Chicago and then Sunday's 31-13 defeat at home to Minnesota - its first loss in 13 home games.
Holmgren expects Alexander and Engram to be back against the Raiders on Nov. 6. Same with injured left guard Floyd Womack, who has missed the last four games with a knee injury. But Hasselbeck is still expected to be out for the Rams game, so Wallace will likely start what figures to be the biggest game of the season for the Seahawks.
After that, only two of Seattle's final seven games are against teams with winning records - at Denver and against San Diego.
Regardless of the opponent, Holmgren has two other, big concerns beyond injuries: run blocking and pass defense.
The Seahawks ran for just 53 yards on 21 carries with fill-in Maurice Morris during Sunday's loss. They are averaging just 99.7 yards per game this season, 20th in the NFL. Last season, they were third with 153.6 yards rushing per game.
A week after giving up a 67-yard touchdown late in the game at St. Louis, safety Michael Boulware charged a fake slant route from Minnesota's Marcus Robinson. Robinson then ran by the flat-footed safety for a 40-yard touchdown that tied the game at 10.
Boulware and Ken Hamlin also let Jermaine Wiggins slip behind them on Mewelde Moore's 15-yard, halfback option touchdown pass that gave the Vikings a 17-10 lead.
"It's my eyes that get me in trouble," Boulware said. "I've got to focus on the right things."
Holmgren may provide that focus.
Copyright 2018 The Associated Press. All rights reserved. This material may not be published, broadcast, rewritten or redistributed. We strive to uphold our values for every story published.