St. Louis — Jim Edmonds' nickname is "Hollywood," a reference to the 36-year-old center fielder's uncanny knack for coming through when everybody is watching.
St. Louis Cardinals manager Tony La Russa surely had that in mind when he kept putting Edmonds in the lineup against lefties this year, despite a puny .156 batting average against them.
Sure enough, facing Detroit Tigers southpaw Nate Robertson in Game 3 of the World Series, Edmonds put his name in lights yet again.
"He's got that quality where the bigger the moment, the more likely he's going to concentrate, not get distracted, and produce," La Russa said. "He's done that ever since he's been here.
"He really is a prime-time guy."
The St. Louis Cardinals' elder statesman, prone more to musing about retirement in a season plagued with injury and struggles at the plate, lined a key double down the first-base line off Robertson in the fourth inning Tuesday night for the first runs in St. Louis' 5-0 victory.
"I'm definitely not 25, so I'm just out there having a good time and enjoying the moment," Edmonds said.
Getting to this moment was a long road for Edmonds. Post-concussion syndrome from a crash into a wall kept him out of the lineup for a month. His sore foot requires a daily numbing injection designed to last until the end of the game. And his aching left shoulder will require surgery in the offseason.
So it's far from perfect.
"They've got medication for that and a lot of other things," Edmonds joked. "It's not necessarily pain-free but it's a lot of fun."
Edmonds was so bad against lefties this season that La Russa last month discussed the possibility of platooning the four-time All-Star and eight-time Gold Glove winner against tough lefties in the playoffs.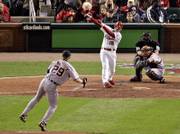 Then again, La Russa knows Edmonds' history, and he's been out there throughout the postseason, routinely tracking down fly balls even when he couldn't help on offense. In the NL championship series, Edmonds made a spectacular catch at the wall in the sixth inning of Game 5 to rob the Mets' Jose Reyes, a play that didn't make it into the conversation because it came in a 12-5 New York rout.
Edmonds was only 1-for-15 in the 2004 World Series, a rare postseason power outage. But so far, Edmonds' second World Series appearance has been a rousing success. He's 4-for-9 with a team-leading four RBIs and is batting .296 overall in the postseason with two homers and a team-leading 10 RBIs.
Edmonds' key double Tuesday night demonstrated that perhaps he just needed time to clear his head. The Tigers were convinced: When Edmonds came to bat again in the seventh with two outs and a runner on third, Jason Grilli walked him intentionally.
"He's obviously swinging the bat real good in the postseason," teammate Albert Pujols said. "We need everybody to step up at the right time, and that's what he did."
Edmonds batted just .257 with 70 RBIs this year, his lowest totals by far in seven seasons in St. Louis. His gung-ho defensive game is mainly to blame.
Walls have never scared Edmonds, who's scaled many for highlight-reel catches. On June 21, he paid for a crash into a wall with the first concussion of his career.
Post-concussion symptoms cropped up later. Edmonds went a month, from mid-August to mid-September, between starts before he could play again. After blurred vision, dizziness and general confusion forced him out of an August game, he made only four starts in the final six weeks.
Now, once again, he's in his element.
Copyright 2018 The Associated Press. All rights reserved. This material may not be published, broadcast, rewritten or redistributed. We strive to uphold our values for every story published.