St. Louis — Chris Carpenter was well on his way to a World Series win when, all of a sudden, people swarmed the mound to examine his hand.
No smudge, no scuffs. Just a cramp, and it wasn't about to blemish his outing.
Carpenter looked every bit a Cards' ace as he threw the Detroit Tigers a curve, pitching St. Louis to a 5-0 victory Tuesday night for a 2-1 Series edge.
"I came out tonight and had my good stuff," Carpenter said.
He used big breaking balls to spin three-hit ball for eight innings. And with Jim Edmonds hitting a key double and St. Louis taking advantage of a poor throw, the Cardinals returned their focus squarely to the field.
Gone were any reminders of the squabbling Kenny Rogers caused with his smudged left hand in Game 2.
Oh, Rogers heard plenty from the sellout crowd at Busch Stadium during pregame introductions, as chants of "Cheat-er!" echoed throughout the ballpark. But that was about the only noise the Tigers caused in this game.
Looking fierce with his three-day beard, Carpenter showed why he won the NL Cy Young Award last year and is a top contender this season. He struck out six, walked none and kept the Tigers' trio of Placido Polanco, Ivan Rodriguez and Curtis Granderson hitless in the Series.
Carpenter's lone problem came in the seventh inning. As Polanco led off by lining out to good friend Albert Pujols, Carpenter hopped off the mound and looked at his hand.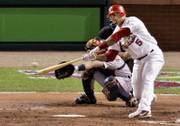 Cardinals manager Tony La Russa, a trainer and the entire St. Louis infield converged on the mound, peering at Carpenter's bare right hand. Plate umpire Wally Bell also went out to check as reliever Josh Kinney began warming up in a hurry.
All in all, it certainly was a lot more attention than Rogers attracted on the field after a
yellowish-brown mark was spotted on his hand - he said it was a mix of dirt, spit and resin, while others claimed it was illegal pine tar.
A moment later, Carpenter was deemed to be OK. He proved it, too, by continuing to set down the Tigers to constant cheers.
"He showed everything he could do," La Russa said. "He's got a lot of weapons."
Carpenter drew his biggest roar when he got a standing ovation as he came to bat in the eighth. The bottom of the eighth took a while, though, and Braden Looper relieved in the ninth and finished the combined three-hitter.
"We need to swing the bats better, obviously," Tigers manager Jim Leyland said.
Game 4 will be tonight, provided a forecast of steady rain holds off. If it does, NL championship series MVP Jeff Suppan will start against Jeremy Bonderman.
The Tigers had homered in all 10 postseason games before Carpenter stopped them. And a Detroit team that averaged 51â2 runs per game throughout the AL playoffs has scored a total of five in the World Series.
It was somewhat of a surprise, too. Carpenter gave up a season-high seven runs at Detroit in June, and the Tigers' starting lineup was hitting .356 against him.
"No. 1, you have to credit Chris Carpenter," Leyland said. "No. 2, we have a few guys who aren't swinging the bat too well."
Carpenter had waited a long time for this opportunity. He was injured and missed the entire 2004 postseason, including the Cardinals' matchup with Boston in the World Series, a Red Sox sweep.
He allowed only one runner past first base. Brandon Inge singled and made it to third in the third on a two-out wild pitch, then catcher Yadier Molina blocked a curve that bounced to keep a run from scoring. Granderson grounded out to end the inning.
Edmonds hit a two-run double in the fourth. A throwing error by Tigers reliever Joel Zumaya and a wild pitch by Zach Miner gave St. Louis its other runs.
Working on 13 days' rest, Tigers lefty Nate Robertson opened with three hitless innings. That's about normal for the Cardinals - they were a weak 23-34 against left-handed starters this season.
Yet it was the lefty-swinging Edmonds who got the key hit against Robertson, who was pulled after five innings. After that, Robertson bided his time on the bench talking to Rogers, perhaps picking up some secrets about pitching in cold weather.
Edmonds delivered the big hit the Cardinals missed the last time they held the World Series under the Arch - in 2004, St. Louis scored a total of one run in two losses to Boston.
But that was at the old Busch Stadium, now a mere hole in the ground adjacent to the new ballpark. In this new place, Edmonds doubled that run total with one swing in the fourth inning.
Preston Wilson, hitting high in the order because he was 5-for-5 lifetime against Robertson, led off with a sharp single for the Cardinals' first hit. Pujols showed his strength and skill when, despite being a bit off-balance, lined a double down the right-field line that hopped into the stands.
When Robertson went to a 2-0 count on Scott Rolen, Leyland went to the mound. Two pitches later, Rolen walked to load the bases with no outs.
The crowd in the lower deck was standing, hoping for action. And after a forceout at the plate, Edmonds came through. He pulled a hard grounder down the line that hobbled first baseman Sean Casey had no chance to get, and St. Louis led 2-0.
In the seventh, Zumaya made a poor choice on Pujols' comebacker with runners on first and second and no outs. Zumaya tried to go to third base and threw it wide past Inge, and both runners scored.
"He just made a bad fundamental play," Leyland said.
Miner's wild pitch gave St. Louis another run in the eighth.
Copyright 2018 The Associated Press. All rights reserved. This material may not be published, broadcast, rewritten or redistributed. We strive to uphold our values for every story published.