It could have found a different fate as a carpenter's shop or a private residence.
But instead, an aged Methodist chapel in Sproxton, England, found a new home and a rebirth when it was transported to Baker University's campus a decade ago.
Those with ties to the small stone building - now a fixture on the campus of the Methodist-affiliated liberal arts college - celebrated its 10th anniversary Tuesday.
"It remains a quiet and powerful symbol for the spiritual truth that animates this place and its people," Baker President Emeritus Dan Lambert said.
The ceremony drew a diverse group, including those who were instrumental in moving the chapel to Baldwin, a group from England with ties to the chapel, workers who helped reconstruct it and couples who've chosen it for their weddings.
Originally dedicated in 1864 in England, the chapel closed in 1988. Dean Bevan discovered the chapel, grimy and sandwiched between two buildings, in 1989.
Bevan, a Baker English professor at the time, had been asked by Lambert to look for small Methodist churches.
"We said, 'That's it,'" Bevan said of stumbling upon the old building. "It turned out as well as it possibly could. It's been a much-loved addition to the campus here."
Photo Gallery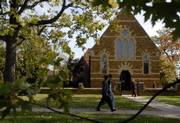 Osborne Chapel
A few years later, the chapel crossed the pond, piece by piece. And crews worked to put it back together again.
"It was like opening the biggest Christmas present that you've ever seen and having to put it together," said Don McMican, a building engineer who worked on the chapel.
With the pews still to be installed and the landscaping yet to be finished, the chapel opened for its first wedding in August of 1996.
Brandy Wagner Webber recalled her wedding day.
"We walked across boards to get into the chapel," she said. "It had been raining that day, so it was muddy."
But the lack of polish didn't faze the couple.
"I was just happy to be the first couple and to get to do it," Webber recalled.
Months later, former British Prime Minister Margaret Thatcher, whose father had preached occasionally at the chapel, traveled to Baldwin for a rededication ceremony.
In its short time at Baker, the chapel has been a refuge in sad times and a place for celebration, said the Rev. Ira DeSpain, Baker's minister.
DeSpain said students went there following the Sept. 11, 2001, attacks and to mourn Baker students who've died. It's also been the site of nearly 200 weddings and the backdrop for wedding proposals, he said.
"It has become such a part of our campus," he said.
Copyright 2018 The Lawrence Journal-World. All rights reserved. This material may not be published, broadcast, rewritten or redistributed. We strive to uphold our values for every story published.