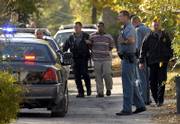 Lawrence Police combed a neighborhood just east of downtown Tuesday morning after three men who had tried to break into a vehicle fled from officers first in a car and then on foot.
Police were able to round up all three suspects in less than an hour. The men were all from Leavenworth, police spokesman Sgt. Dan Ward said.
It all began about 10:30 a.m. when an officer was sent to check on a report of a vehicle burglary in progress in the 700 block of East Ninth Street, Ward said. When the officer arrived, three men climbed into a white Chevrolet Cavalier and drove away with the officer in pursuit, Ward said.
The car chase ended a short distance away in the 1000 block of New Jersey Street, where the three men bailed out of the car and ran away.
The police activity attracted the attention of some workers fixing a house in the 1000 block of Connecticut Street. One of the suspects was caught a short distance away.
Workers said they saw police cars driving through the area and that a search dog was brought into the action.
The search area was near New York School, 936 N.Y. No school officials were available late Tuesday afternoon to say whether the school was locked down or other precautions were taken.
Police determined the Cavalier had been stolen, Ward said. No other information was available Tuesday.
Copyright 2017 The Lawrence Journal-World. All rights reserved. This material may not be published, broadcast, rewritten or redistributed. We strive to uphold our values for every story published.