Have you ever heard of a workout so physically challenging that it makes you want to rip your clothes off?
Weird question, yeah. But the fact is, Darrell Arthur thought he was about cooked during Kansas University's basketball Boot Camp earlier this month. The sprints piled up, and the gas in Arthur's tank drained out.
So naturally, the KU freshman forward found a way to alleviate the pain.
"The last day, I ran in my tights," Arthur said.
Cue the record coming to a screeching halt.
Arthur's not joking. While most of his teammates wore shorts and sweated out the sprints like normal humans, Arthur rated himself PG-13 just trying to survive.
"You know how hard you sweat and your clothes get heavy?" forward Darnell Jackson asked. "He just took all his clothes off and ran in his tights."
Added Matt Kleinmann: "I think I looked over right as I turned the first time and my jaw dropped. I almost fell over I was laughing so hard. It's hard to laugh when you're that winded.
"Maybe that's how he runs down in Texas in high school. I don't know. But it was a sight."
So it's now established that Arthur is comfortable around his teammates. That's a big step for a freshman trying to be a star on a team full of them.
Arthur - nicknamed "Slim Shady" for his lean physique - says he lost about seven pounds during coach Bill Self's two-week "Boot Camp" conditioning program. He had bulked up to 235 pounds through weight training and protein-rich diets when he arrived at KU. He played at about 220 as a standout at South Oak Cliff High in Dallas.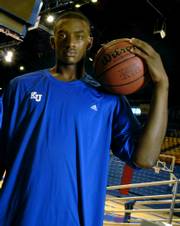 "When I had the weight on, I wasn't jumping as high," Arthur said. "Now that I lost some, I'm getting up there pretty good. I'm probably at a good weight right now, about 227."
Like he'll ever have trouble going above the rim. According to teammates, Arthur could dunk with a tube of sand draped over his shoulders.
That's part of what made Arthur one of the most analyzed recruits in the nation last year. He took the longest of any McDonald's All-American making up his mind, juggling Baylor, LSU and Kansas around in his head -much to the chagrin of eager fans at all three schools.
Or, as coach Bill Self put it, "We went around the room the other day and talked about how long we actually spent recruiting guys hard. You could add up the whole room and it probably didn't add up to Darrell as far as length of time. Julian (Wright) took 2 1/2 hours, and Darrell took 2 1/2 years."
Arthur eventually chose Kansas after a midnight dream told him where to go in mid-May. Not long after, he headed to Lawrence to start summer school and summer workouts.
Kansas was bound to be a good basketball team even without Arthur saddling up. But with him? What kind of possibilities will that open up?
"He's like another Julian Wright," Jackson said, "but bigger, faster, stronger. And he can jump out of the gym. I've never seen anybody 6-10 jump so high. He's crazy."
Arthur compared himself to "JuJu" as well, though he said he's not quite ready to move out and play the perimeter like Wright is.
Whether that comes or not, expect fireworks in Arthur's first season.
"I have to work on my ball handling a little bit more," Arthur said. "But shooting wise, I think I'm all right.
"We do a lot of picking and popping, so that works fine for me. That's my game. Coach wants me to shoot more because he things I'm more passive, but I'm just trying to get into the flow of everything."
¢ Recruiting: Dominique Sutton, a 6-4 guard from Durham, N.C., who visited Kansas State two weeks ago, says he'll visit Kansas this weekend followed by a trip to Illinois. "I have offers from all three schools. I just need to take the other visits so I know what I'm comparing to," Sutton told rivals.com. "I don't know much about either place right now. I know Brandon Rush at Kansas. He's told me a little bit about it. He says it is a nice place and he thinks I'd like it there."
Copyright 2018 The Lawrence Journal-World. All rights reserved. This material may not be published, broadcast, rewritten or redistributed. We strive to uphold our values for every story published.