Photo Gallery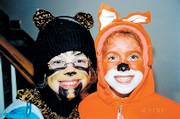 Memorable Halloween costumes
Half - or maybe most - of the fun of Halloween is choosing a costume. Emulating a favorite celebrity or ensuring that you've got a one-of-a-kind outfit takes time, planning and sometimes a little sewing assistance from mom.
Journal-World Angle members dug out their scrapbooks and found favorite costume ideas from their childhood. From the nostalgia of "The Wizard of Oz" to the present pop stardom of Britney Spears, our contributors put their favorite ideas on the table. (Or, in the case of contributor Alek Joyce, the breakfast table.)
Want to share your favorite costume photos? You can post them below.
Copyright 2018 The Lawrence Journal-World. All rights reserved. This material may not be published, broadcast, rewritten or redistributed. We strive to uphold our values for every story published.