Journalists are great at covering a political horse race or explaining things once they've happened, but in these days of information overload, they need to do more, according to Neal Shapiro.
"I think we have the hardest time with some of the more fundamental issues of the day because they don't really fit into daily news coverage," he said.
Shapiro, former president of NBC News, will bring his critique of the news business, with its highs and lows, to the Dole Institute of Politics today. His talk, set for 7:30 p.m., is the Muncy Journalism and Politics lecture.
President of NBC News from 2001 to 2005, Shapiro guided the network's coverage of 9/11, the wars in Afghanistan and Iraq, the 2004 election and Hurricane Katrina.
"Here's a guy with an enormous background in TV news," Dole Institute Director Bill Lacy said. "Frankly, his background and knowledge of broadcast news just appealed enormously to us."
Shapiro reflected on his network's post-9/11 coverage and deflected the common criticism that the media weren't critical enough in the walk-up to the war in Iraq.
It's still unclear what the government knew and when and who knew what, he said. But for argument's sake, supposing there were things the government knew and was withholding from the people, Shapiro said he doesn't think asking better questions would have yielded a better outcome.
"I don't think more pointed questions would have given us more information," he said. "This White House more than others seems to march to a single drum beat."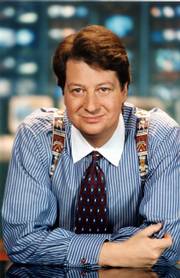 At NBC, Shapiro also oversaw the network's transition from Tom Brokaw to Brian Williams as anchor in 2004. After leaving the network, Shapiro taught at Columbia University and his alma mater, Tufts University.
Shapiro said the key to the transition from Brokaw to Williams were the two men themselves.
"I can't say enough good things about either one of them," he said.
Williams fit the anchor role because he's a true newsman, Shapiro said.
"Brian is a guy who loves the news," he said. "He doesn't read fiction. He only reads nonfiction. ... I think he was in journalism for all the right reasons and wanted that job for all the right reasons."
As for Williams' new competition, Katie Couric of The CBS Evening News, Shapiro said there's a long road ahead.
"I wouldn't make any judgments after five weeks," he said. "To use a well-worn journalism cliche, I think it's too soon to tell."
And as for evening news - which has dropped from more than 50 million viewers in 1980 to 27 million in 2005, according to the Project for Excellence in Journalism - it still has a future, Shapiro said.
"Years out, they may have to morph into something else, but I think it's too soon to think about writing the obituary for it."
Copyright 2018 The Lawrence Journal-World. All rights reserved. This material may not be published, broadcast, rewritten or redistributed. We strive to uphold our values for every story published.