St. Louis — Tony La Russa kept talking about Kenny Rogers, his words from the interview room booming all around Busch Stadium, courtesy of the PA system. One by one, the Detroit Tigers stopped their workout to listen.
"I don't believe it was dirt," they heard the St. Louis manager say. "Didn't look like dirt."
A lot of baseball fans weren't buying Rogers' explanation, either. So instead of looking to Game 3 of the World Series, the focus Monday stayed squarely on Game 2. Specifically, on what Rogers had at the base of his left thumb - and whether it was there before.
"We know it's all over the place right now," umpires' supervisor Steve Palermo said.
Photographs from Rogers' start in the AL championship series against Oakland showed what appeared to be the same kind of smudge on his pitching hand that caught everyone's attention Sunday night.
Prompted by La Russa, the umpires asked Rogers to clean off his left hand before the second inning. He wound up pitching eight shutout innings in a 3-1 victory that evened the World Series at one game each.
Rogers, who has gone from playoff farce to postseason force this October, insisted it was an innocent mistake.
"I rub up the balls between the innings and before the game all of the time," Rogers said Monday. "I rub up the bullpen balls I pitch with with mud, resin, spit. I do it all the time. They rub the ball up, too, with mud before the games.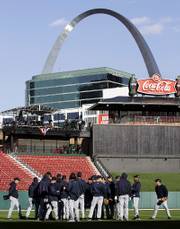 "The game balls, they're dirty. Usually, when I get done, there's not much on my hand, but I guess a little bit more than normal. I wiped it off and proceeded to pitch seven pretty good innings," he said. "Mud, resin, sweat. It's always there. I try not to go crazy with it, but it's not making my pitches do anything crazy."
Later, it was La Russa's turn. His off-day news conference was piped over the Busch Stadium public-address system, so his thoughts echoed from every corner of the empty ballpark.
The first question skipped right past Game 3 - it's tonight, with reigning NL Cy Young winner Chris Carpenter starting against Nate Robertson.
Instead, it was about Rogers, who has pitched 23 scoreless innings this postseason - after going 0-3 with an 8.85 earned-run average in previous postseasons.
He said he brought the smudge to the umpires' attention, but did not demand they search Rogers. They didn't. La Russa also said the Cardinals were aware Rogers had a similar spot earlier in the postseason.
"I said, 'I don't like this stuff, let's get it fixed.' If it gets fixed let's play the game. It got fixed, in my opinion," he said.
"If he didn't get rid of it, I would have challenged it. But I do think it's a little bit part of the game at times, and don't go crazy."
La Russa said he talked to the Cardinals Monday.
"I briefly explained where I was coming from and I said, 'Anybody felt like I should do different, then I disappointed you.' ... And they didn't raise their hand and say, 'Hey, I disagree,' they just didn't say anything," he said. "But it's very possible there were guys that disagreed. It's not the way we want to win."
La Russa also was adamant that his longtime friendship with Tigers manager Jim Leyland did not affect how he handled the situation.
"It had nothing to do with Leyland," he said.
Copyright 2018 The Associated Press. All rights reserved. This material may not be published, broadcast, rewritten or redistributed. We strive to uphold our values for every story published.