San Jose, Calif. — Five years ago Monday, Apple Computer CEO Steve Jobs unveiled the iPod, the company's most important product since the original Macintosh and one of the most successful consumer electronics products ever.
Only no one knew it at the time.
"I don't think Apple believed it would have an incredibly phenomenal hit on its hands," said Tim Bajarin, principal analyst at Creative Strategies, a Campbell, Calif.-based technology industry consulting firm.
But it did. And along the way, the tiny, cleverly designed gadget has revitalized Apple, helped usher in a revolution in the music and media industries, and become a powerful cultural icon.
Not bad for a device that when it was introduced cost $399, was about the size of a deck of cards, and was thought by many to be at best a niche product.
When Jobs unveiled the iPod on Oct. 23, 2001, at the company's headquarters in Cupertino, Calif., Apple was struggling. The company had just reported that its annual sales had fallen by one-third in its most recent fiscal year and its bottom line had dipped into the red.
What's more, Apple had almost no experience in the consumer electronics business, a notoriously competitive and often low-margin industry. And Apple was facing a slew of rivals who had already entered the digital media player market, not to mention consumer electronics giants such as Sony that were threatening to do so.
Yet not only did Apple succeed, it has come to dominate the market. The company sold 39.4 million iPods in its most recent fiscal year and accounts for about 75 percent of the U.S. market for such devices.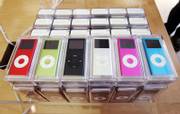 Thanks to its success with the iPod, Apple has gone from a struggling also-ran in the PC business to one of the most dynamic companies in technology. Its annual sales have more than tripled in five years to nearly $14 billion, and last fiscal year it posted a nearly $2 billion profit.
But the iPod phenomenon is about more than just Apple's recovery. It's also been an instrumental part of the move toward digital distribution of music, movies and other entertainment content.
Digital music files were already popular and the illicit trading of them was rampant by the time Apple introduced the iPod. But the device - especially after Apple paired it with its iTunes Music Store and made iTunes available for Windows - made it easy for mainstream consumers to finally take digital music files off their computers and listen to them on the go. What's more, with the iTunes Store, Apple created the first legitimate site to purchase and download music files that caught on with consumers.
With Apple's colorful ads and association with musicians such as Madonna and U2, the iPod phenomenon has become entrenched in popular culture. It's also changing the way that culture is consumed, analysts say.
Instead of listening to the radio, consumers increasingly tune in to their iPods, making it tougher for advertisers to reach their target audiences. Record companies had been able to get consumers to buy a CD by offering one hit song, but with the popularity of single-song downloads, the record labels are having to work much harder to sell whole albums.
"You are now your own program director. You can listen to whatever you want, whenever you want," notes Brad Adgate, a media analyst with the advertising-buying firm Horizon Media.
Copyright 2018 The Lawrence Journal-World. All rights reserved. This material may not be published, broadcast, rewritten or redistributed. We strive to uphold our values for every story published.