Kansas City, Mo. — Tony Gonzalez wasn't about to let his old coach win.
The Kansas City Chiefs' tight end had two long receptions on the Chiefs' four-play, game-winning drive in the final minute of their 30-27 victory against Marty Schottenheimer and the San Diego Chargers on Sunday.
"We always try to get Tony the ball," K.C. quarterback Damon Huard said. "It'd be silly not to. He's such a big target."
The 18- and 19-yard receptions capped Gonzalez's six-catch, 138-yard day. It was his best performance since the season finale two years ago against - you guessed it - San Diego.
"I told he and Larry (Johnson) that we were going to get them the ball this week," Chiefs coach Herm Edwards said.
After Gonzalez's clutch catches and a screen to Johnson, Lawrence Tynes was set up for a 48-yard field goal, which he made easily, much to the delight of the Arrowhead crowd.
Just one problem: The play never happened. Kris Wilson, who started the day's scoring with his first NFL touchdown, was guilty of a false start.
No problem for Tynes, who booted the 53-yard re-do and started celebrating before the ball reached the top of its arc.
"I just hit it and started running to the sideline," Tynes said. "I didn't see where it landed, but I knew it was going in."
After a nearly perfect first quarter for Kansas City, it hardly seemed Tynes' last-second heroics would be necessary.
Three Chargers turnovers led to 14 K.C. points.
Photo Gallery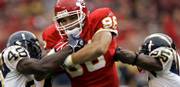 K.C. Chiefs vs. San Diego Chargers
The only major error was a missed 42-yard field-goal attempt by Tynes. He also banged an extra-point attempt off the upright in the second quarter before connecting on the longest field goal of his career with six seconds remaining.
"Our kicker was struggling early, but I didn't say anything to him," Edwards said. "I leave those kickers alone."
Once they stopped turning the ball over, the Chargers looked like the division leaders the Chiefs expected. Playing from behind for most of the game, Philip Rivers - who, at N.C. State, dissected the Kansas University football team in the 2003 Tangerine Bowl - attempted 43 passes. He completed 25 for 266 yards and two touchdowns, including a 37-yard catch and run by Tomlinson on a fourth-and-three in the final quarter.
That scored moved San Diego within a touchdown. Tomlinson later passed to Brandon Manumaleuna on a trick play for the tying touchdown with 5:10 to play. Luis Castillo set up that scoring drive when he recovered a Damon Huard fumble on the Chiefs' 23.
"You knew the Chargers were going to come back," Huard said.
Starting his fifth game in place of the injured Trent Green, Huard completed 15 of 27 passes for 232 yards and a pair of first-quarter touchdowns. Johnson evened out the offense with 28 carries for 132 yards and two scores.
"We had that balance we've been looking for," Huard said. "We made some big plays in the passing game and then gave the ball to Larry, our workhorse."
Gonzalez, the Chiefs' other primary weapon, was just glad he figured into a victory.
"I'm not going to be the guy who comes to the media and complains about not getting the ball," Gonzalez said of his lack of production this season. "But, yeah, definitely, it's been frustrating."
The Chargers noticed no signs of frustration.
"Anytime a guy goes to seven straight Pro Bowls, you know that they are going to get the ball to him," San Diego linebacker Shawne Merriman said. "We just need to learn that they are going to put the ball in their playmakers' hands."
¢ No QB controversy: Edwards said there was no doubt who would quarterback the Chiefs in the near future.
"Trent Green's the starting quarterback," he said. "When he's ready to play, he's going to be the guy. The great thing about Damon Huard is, he's won three football games, so we're not making any excuses."
Green is expected to resume practicing this week, but Huard likely will start when the Seahawks visit Arrowhead on Sunday.
Copyright 2018 The Lawrence Journal-World. All rights reserved. This material may not be published, broadcast, rewritten or redistributed. We strive to uphold our values for every story published.