Almaty, Kazakhstan — When Borat, the world's most famous - and fictional - Kazakh journalist, bumbles into U.S. theaters next month in his hotly anticipated film debut, he will introduce America to a nation it barely knows.
He will rave about caging his wife, prostituting his sister, hunting Gypsies, punching goats and drinking horse urine - just a few of the invented traditions that Borat, a.k.a. British comedian Sacha Baron Cohen, ascribes to this out-of-the-way nation.
But real Kazakhs are finding this a tough act to swallow.
"By all means laugh at Borat if you will," Kazakhstan's ambassador to the United Kingdom, Erlan Idrissov, wrote in a recent newspaper opinion piece, "but I suspect that, once you know something of the true Kazakhstan, his antics will leave a nasty aftertaste."
As Kazakhstan faces the unusual national challenge of recapturing its good name, Borat has divided Kazakhs between those who argue for a passionate defense and those who urge their countrymen not to rise to the bait.
As any Kazakh citizen can tell you, the national drink is not horse urine, but fermented mare's milk, or kumys, the relic of a proud nomadic past. And unlike Borat, Kazakhs have no demonstrated hostility toward their wives, sisters or Gypsies.
Either way, frantically clarifying the comments of a nonexistent reporter strikes some here as undignified - exactly the reaction that Borat would want.
"Yes, he says stupid things about Kazakhstan and kumys, but if people know about the country at all, that's probably a good thing," said Irene Velska, editor of the Kazakh news site Media Provinces. "We should take it as humor, not something serious."
No bad publicity?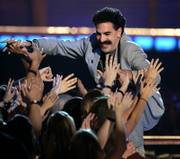 Kazakhstan would prefer that the world was talking this year about the 15th anniversary of fledgling Kazakh democracy. Or, perhaps, about the immaculate new capital city called Astana, which means "capital" in the Kazakh language.
Unbeknownst to many Borat fans, Kazakhstan is no laughing matter to oil companies and human-rights groups. The former Soviet republic of 15 million people holds the largest crude oil reserves in the Caspian Sea region and is expected to become an energy exporter on par with Russia and Iran. And the regime of President Nursultan Nazarbayev, who has served since 1990, has been criticized by international non-governmental organizations and the U.S. State Department for suppressing opposition.
In "Borat: Cultural Learnings of America for Make Benefit Glorious Nation of Kazakhstan" Cohen, an observant Jew, plays an anti-Semitic, misogynistic, homophobic oaf. He leads his audience on a tour of the U.S., interviewing unwitting Americans and regaling them with folksy wisdom from a Kazakhstan of his own making.
Cohen first made his name in the U.S. with an HBO show named for another of his characters, Ali G, a buffoonish rapper who interviewed hapless Americans for a fictional youth-education show. But it was Borat who delighted critics at the Cannes and Toronto film festivals by conjuring a land in which dogs dance on television, the age of consent was recently raised to 8 and a year never goes by without the "Running of the Jews."
Having the last laugh
The comedian's target is much less Kazakhstan than the U.S. When Cohen entices a bar full of Americans to join Borat in singing "Throw the Jew Down the Well," it is America that should be troubled.
Yet there are no snickers to be heard from Nazarbayev's regime. A Foreign Ministry spokesman denounced Borat and vowed to sue its creator. Cohen, in character, responded with a video statement of full support for his nation's intention to "sue this Jew."
Recently, exasperated Kazakh officials have changed tack, even inviting Borat to visit the country. "It's useless to offend an artist and threaten to sue him," Deputy Foreign Minister Rakhat Aliyev told the Kazakhstan Today newspaper. "It will only further damage the country's reputation and make Borat even more popular."
Copyright 2018 The Lawrence Journal-World. All rights reserved. This material may not be published, broadcast, rewritten or redistributed. We strive to uphold our values for every story published.