Nairobi, Kenya — Biblical scholar Tokunboh Adeyemo long ago decided something was wrong with how the message of God was being spread in Africa, a continent where competition for souls is fierce.
"The Bible was not written against the cultural background of Africans," Adeyemo told The Associated Press in a recent interview. "The Bible came through from Western missionaries, and the interpretation they gave was based on their own cultural background."
That prompted the Nigerian-born Adeyemo and other scholars and theologians to create Africa Bible Commentary, a 1,600-page book released this summer by Africans, for Africans, using African proverbs and idioms to apply the Bible's teachings to contemporary problems such as AIDS, corruption and female genital mutilation.
The tome was 12 years in the making and provides explanations of verses from all 66 books in the Protestant version of the Bible.
Some of the book's essays give guidance on Christian behavior in today's world. Sicily Mbura Muriithi, who teaches at the Presbyterian University in Kenya, refers to Genesis in her condemnation of female genital mutilation, which is practiced primarily in parts of sub-Saharan Africa and the Middle East and usually involves removal of a girl's clitoris.
"God created the human body and female sexuality and declared them both good," Muriithi writes. "Therefore, to abuse the body in a way that destroys the ability to appreciate one of God's gifts is an insult to his creation."
There are also passages denouncing witchcraft.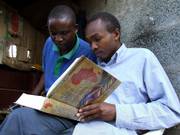 "The Bible does not support the doctrines of demons, evil spirits and witchcraft that derive from traditional beliefs, but many professing Christians are unaware of what the Bible teaches on this subject," writes Samuel Waje Kunhiyop, a professor at the Evangelical Church of West Africa Theological Seminary in Nigeria.
And a commentary on the Book of Job by Tewoldemedhin Habtu, an Eritrean Baptist at the Nairobi Evangelical Graduate School of Theology, urges Christians not to lose their faith when confronted with the hardships of living on the world's poorest continent: "God has not promised that because we are believers we will not die a violent death or suffer disaster."
Joel Carpenter, director of the Nagel Institute for the Study of World Christianity in Michigan, said the book is a signal of a maturing Christian leadership in Africa.
Across Africa, home to an estimated 900 million people, Islam and Christianity are both estimated to have about 400 million followers, with traditional animist religions making up most of the remainder. As the animist ranks dwindle, Muslims and Christians are increasingly competing for converts.
Africa Bible Commentary was published in English, but there are plans for versions in Swahili, Amharic, Yoruba, Zulu and other languages.
A question remains: Shouldn't the ancient, enduring Bible be relevant to readers even without hundreds of pages of explanations?
"I wish that is possible," said Adeyemo, who served as the book's general editor. "But we've had the Bible for at least over 100 years on this continent, and the problems we are dealing with are still here."
Copyright 2018 The Associated Press. All rights reserved. This material may not be published, broadcast, rewritten or redistributed. We strive to uphold our values for every story published.