Washington — President Bush conceded Friday that "right now it's tough" for American forces in Iraq, but White House officials said he would not change U.S. strategy in the face of pre-election polls that show voters are upset.
With Republicans anxious about the potential loss of Congress - and with conditions seemingly deteriorating in Iraq - Bush addressed the question of whether he would alter his policies.
"We are constantly adjusting our tactics so that we achieve the objective, and right now it's tough, it's tough," Bush said in an Associated Press interview.
Bush met with Gen. John Abizaid, the top U.S. commander in the Middle East, for a half-hour Friday afternoon at the White House. The White House said Abizaid already was in town and Bush asked him over.
The president also will consult by videoconference today with Abizaid at U.S. Central Command in Tampa, Fla., and with Gen. George Casey, who leads the U.S.-led Multinational Forces in Iraq, to determine if a change in tactics is necessary to combat the increasing violence.
Despite calls for a strategy switch, Bush said: "Our goal has not changed. Our goal is a country that can defend, sustain and govern itself, a country that which will serve as an ally in this war. Our tactics are adjusting."
There were fresh signs of Republican doubts about the war. Sen. Kay Bailey Hutchison of Texas, who holds a seat deemed safe for the GOP, said in a campaign debate Thursday she would have voted against the war had she known ousted Iraqi leader Saddam Hussein possessed no weapons of mass destruction.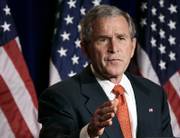 Democrats also kept up the pressure on Bush. In a letter to the president, a dozen House and Senate Democratic leaders urged him to bring home some U.S. troops and force the Iraqis to take more responsibility for their security. The Democrats said Bush should do more to pressure Iraqi leaders to disarm militias and find a political solution that would curb violence.
"The steadily mounting sectarian violence, growing insurgency and escalating casualty figures in Iraq are unacceptable and unsustainable," the Democrats said. "We urge you to change course, level with the American people and join with us to develop a policy that will work before the situation in Iraq is irretrievable."
Presidential spokesman Tony Snow said that while Bush might change tactics, he would not change his overall strategy.
"He's not somebody who gets jumpy at polls," Snow said of Bush.
Bush, at a political fundraiser in Washington for the National Republican Senatorial Committee, railed against Democrats who criticize the war. Calling the Democrats the party of "cut and run," Bush said voters need to ask: "Which political party has a strategy for victory in this war on terror?' "
As of Friday, the U.S. combat death toll during October in Iraq stood at 75 - possibly heading for the highest for any month in nearly two years. Now in its fourth year, the war has claimed the lives of at least 2,786 Americans.
Approval of Bush's handling of Iraq dipped to 37 percent among likely voters in the AP-Ipsos poll early this month, down slightly from 41 percent last month.
Copyright 2018 The Associated Press. All rights reserved. This material may not be published, broadcast, rewritten or redistributed. We strive to uphold our values for every story published.