LINCOLN, NEB. — Ndamukong Suh plans to go into construction management when his playing days are over.
Right now he's specializing in demolition of quarterbacks and running backs.
The red-shirt freshman nose tackle is a rising star for the Nebraska defense, leading the team in sacks and tackles behind the line of scrimmage. His considerable contributions have come as a backup to Ola Dagunduro.
Is it time for Suh to be fitted for a Blackshirt, the revered practice jersey awarded to starters and select nonstarters?
"A Blackshirt will come when it comes," Suh said. "I would definitely like it to be this year. I'm not angry with the coaches who haven't given me one yet. I haven't had perfect play. I see a Blackshirt - that's someone who has perfect play."
Suh made three tackles in last week's 21-3 win over Kansas State. One threw Leon Patton for a two-yard loss in the first quarter. Another was a 14-yard sack of Josh Freeman in the third. Suh also intercepted a pass in the fourth quarter when Freeman's arm got whacked from behind.
Suh plays about one of three series, yet he has recorded eight tackles behind the line this season, including 3.5 sacks.
More urgent player
"He's playing with a lot of confidence right now, and I'm really impressed," defensive coordinator Kevin Cosgrove said. "I think he's become a more urgent player, more sudden. He has a better understanding of what we're doing, which allows him to play faster."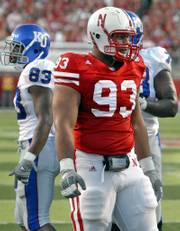 The 6-foot-4, 315-pound Suh came to Nebraska as the program's first scholarship player from Oregon. He starred at Grant High in Portland, was named a Parade All-American and accepted a Nebraska offer over those from Oregon and California.
"Why did I come out here? Great engineering program," he said. "Also, I had an opportunity to play early. And I have great coaches showing me the ropes and showing me what I have to do to get to the next level."
Suh, who played defensive end in high school, moved inside when he got to Nebraska. He appeared in two games last year before an injury to his left knee ended his season.
Nose tackles often clog the middle, taking on centers and guards and creating room for other defenders to make plays. Coach Bill Callahan said Suh has done a good job wreaking havoc on his own.
Definite presence
"He's a big, thick guy, he's strong, he's powerful, and he definitely has a presence inside," Callahan said. "He can get off blocks, he can make plays, and he's coming into his own."
Suh said he gets a lot of help from Dagunduro.
"We talk when he's coming off after the first or second series, and he lets me know what advantage I have against the center," Suh said. "He gives me a little jump-start, which helps me get off the ball."
By the time Suh is finished at Nebraska, he hopes to have made a name for himself.
As it is, his isn't easily pronounced. It's "En-DOM-ah-ken Sue."
His mother, Bernadette, is from Jamaica, and his father, Michael, is from Cameroon. In the Ngema tribe in Cameroon, Ndamukong means "House of Spears."
Butchered name
Suh said his name has been butchered by so many people so many times, he doesn't think much of it anymore.
If he keeps playing as he has, people will start getting it right.
"I think the sky's the limit for me," he said.
Copyright 2018 The Associated Press. All rights reserved. This material may not be published, broadcast, rewritten or redistributed. We strive to uphold our values for every story published.