High Street, north side from 6th St. to 7th St.
100 - Fitzwater, Claud,grapevine wreaths, willow chairs
101, 102 - Phillips, Bob and Betty, Kid's Korner, children's play tents, dolls and clothes, Barbie clothes and tents, wooden toys, bows and arrows, bug barns, foam swords
103, 104 - Blake, Russell and Stoecklein, Tracee, Ness City Monument and Sign, personalized limestone yard signs, mantel pieces, etc.
105 - Stackley, Ginger, K. C. Fido Fashions dog collars, leashes, cat collars, picture frames, beaded keychains, dog bones
106, 107 - Holdgraf, Leanna and Maurice, Grandmother's Pantry specialty no-sugar added jellies and jams, pickled veggies, handcrafted purses
108 - Zebley, Linda and Johnson, Rae, Zebtide Jewels and Raejing Textiles, beaded jewelry and handdyed textiles
109 - Dhority, Kim, Kim's Krafts rough cedar holiday items, fabric holiday items
110 - Boy Scouts, food
111 - Schwartz, Sharon, Kidstuff decorated journals, photo albums, lap trays, accessory boxes
112 - Gardner, Donna, Blue Sky Butterfly Farm, framed butterflies
113 - Rozell, Laura, Whimsical Moments apple and orange wreaths and garlands
114 - Westhoff, Darlene, Crafts and More, salsa, jelly, tea, wooden angels, ornaments
115 - Russell, Jeannie, Quilting by Millie, Christmas quilts, linens, dog kerchiefs
116 - Altar Society, food
High St., south side from 7th St. to 6th St.
117 - Good, Karol D., A Good Connection,jewelry/glass art/demo of bead making
118, 119 - Rein, Robert, Lil Red Wagon, southwest and western decor, wreaths, swags, ornaments, decor baskets
120, 121 - Howard/Duell, Vivid Earth Tie Dyes, tie dye clothing, infant wear, purses and backpacks
122, 123 - White, Helen, Special Occasions, quilts, bibs, towels, table runners and Bible covers
124 - Kalbach, Galen, Flora de Lune, homegrown dried flowers, swags, French gardens, potpourri
125, 126 - Sigma Phi Epsilon, food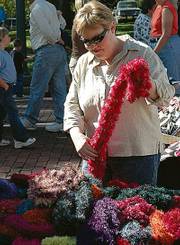 127, 128 - Butler, David and Irma, Create A Plaque, white plaques, primary and pastel letters and emblems
129 - Smith, Rachelle L., Heavenly Designs by Rachelle Leigh sterling silver jewelry, mother's bracelets, children's name bracelets
130 - Duguid, Kathie and Gregg, Paper-Treasures, quilling - ornaments, Easter eggs, flowers, wearables, jewelry, etc.
131 - Bowman, Kathryn, Family Ties Jewelry, jewelry
132 - Steppe, Mike, Steppe's Farm, honey, honey sticks, candles, pollen, gift baskets
133 - Robison, Edward G. III, photography
134, 135 - Brown, Dee, Dee's Delight, hand decorated enamelware, college logos, kettles, pots, soy wax candles
136 - Davis, Richard G., Around Wood, turned wood bowls, platters, lidded boxes
137 - Manley, Scott and Julie, Manley Designs, air brushed tote bags and pillowcases
138, 139 - Dowell, Ed and Marge, M and E's Crafty Things, variety of crafts
140-142 - Pork Producers, food Inside Gregg Bruce Auto
143 - Scott Pfannes, Happy Photographer, reenactment and old time photography
FIRE STATION
Outside 200A - Puett, Patricia, Patricia Rocky Arts, picture baskets, wooden shelves
Outside 200B, 201 - Gislar- DeCock, Amy, Nana's Fudge-N-Stuff, fudge, breads, cookies, candies, brittles
202 - Ingwerson, Jim, Ingwerson Farms, lavender products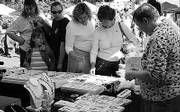 203, 204 - Saylor, Kim, Saylor Plaques, oak plaques to display sports cards and photos
205 - White, William, paintings and prints
206 - Gunnells, Margaret, Ceramic and Crochet Crafts, ceramics, seasonal, southwest, canisters, etc.
207 - Heimer, Bob and Judy, Just Nuts, cinnamon roasted and other nuts
208 - Smith, Kathy, JABD Smitty's Crafts, ceramics, wood items, milk cans
209 - Williams, Mike, MA and H Designs, metal collegiate signs
210 - Michaelis, Terry, Sunrise Soap, soap and handcrafted body products
211, 212 - Breer, Pat and Helen, Heartland Reflections, hand painted pottery and glassware, jewelry, college logos, painted children's canvases
213, 214 - Zimmerman/Kahre, Blue Goose Lane, soft sculpture, painted wood, jeans purses
Outside 215 - Mullin, Jim, Photos By Jim, 35 mm photos nature and scenes - no digital or enhanced.
Outside 216A, 217A - Carlisle, Christy, C. Designs, pottery, jewelry, clay items, seasonal pottery, majolica, dried florals
Outside 216B - Hawkins, Cheryl Hawks Ts and Things, T-shirts, heat transfers, sports, Christian, patriotic, humorous
Outside 217B, 218 - O'Bannon, Kay and Rhonda Kay's Gifts adult bibs, aprons, pillows, totes
219 - McLaughlin, Betty, seasonal woodcrafts, cross stitched pillows
220 - Palmer, Lori, Uncommon Scents, scented, hand-poured votive candles
221, 222 - Reichardt, Sandra and LeRoy, wooden toys, Santas, snowmen, dolls, etc.
223 - Gienau/Kruger, Rugs N Things/Wishing Well Craft Creations, loomed rugs, placemats, wall hangings, wreaths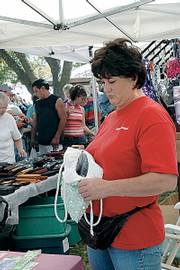 224 - Russell, Lois, Petals 'N Pots florals, wreaths, arrangements and home decor
225 - Sawyer, Roy, Kansas Crafts, cinnamon and vanilla theme baskets, teacher hearts
226 - Sawyer, Roy, Kansas Crafts cinnamon and vanilla theme baskets, teacher hearts
227, 228 - Decker, Sadie, Mom and Me Mats/Dog Gone Good Bakery, dog bakery and matting for college diplomas
229 - Seifert, Carolyn, Heart to Heart Calligraphy, calligraphy
231, 232 - Yost, John and Yvonne, Sensations Jewelry, handcrafted bracelets, earrings, necklaces
Outside 233 - Presnell, Darla, Palomino Mfg., antique silver/silver plate wind chimes, jewelry, napkin rings
Outside 234A, 234B - Harrop/Johnson, Krista's Crafts, chenille scarves, bag holders, baby bibs, hot pads
7th St. south of High - east side
300 - Emergency booth
301 - Emergency booth
Front of library 302, 303 - Arnold, Sally and Lawson, Jean, quilted wall hanging and baby blankets, cloth dolls, chenille toys
Front of library 304 - Smith, Edwin, Animal Art of Edwin Smith, acrylic paintings of animals
Front of library 305, 306 - Brant, Sandra, Jake's Pet Rugs, personalized pet rugs
Front of library 307, 308 - Farmer, Aaron, Tile Art by The Farmer's Wife, tile pictures
Front of library 309, 310 - Brodersen, Julie, Clay Creations clay, saucers in different sizes and shapes, scented rosehips
7th St. south of High (center)
Center 311 - Martinez, Flavio and Sandy, Teddy Bear Den Custom Woodcrafts, cabinets with nostalgic pictures on doors, framed nostalgic pictures, hat rack with horseshoes, folding TV tables
Center 312 - Sherman, Kristina, Topiary Custom Jewelry, Gifts and More, fine sterling silver jewelry for people and pets and hand-made photography, handmade boxes and journals, polymer jewelry, fiber sculpture quilts
Center 313 - Heinze, Richard, Nature's Light Photography, color photography, signed limited editions
Center 314 - Alexander, Pamela, Sadie's Garden of Delight, silk flowers, wreaths, swags, bath salts, gift baskets
Center 315 - Cooper, Susan and Jim, Cooper's Crafty Creations, crocheted name doilies, bibs, stick horses
Center 316 - Wilbur Patrick, Libertarian Party of Kansas, political literature
Center 317 - Alexander, Christina, fleece hoodies, kids jackets that zip in the back
Center 318 - White, Joan Lots of Love Bears and Lace, hand made teddy bears, kittens, woven laces, runners hot pads, mitts
Center 319 - Halseth, Kim, wood items, bow narrows, yard stones, stakes
Center 320 - Emergency booth
329-332 - Schroeder, Jim, limestone rocks, glass blocks, rustic iron, collegiate
7th St. south of High - west side
333 - Emergency booth
334 - Hewitt, Yvonne, Yvonne's Crafts 'N Such, classic candles, ceramics
335, 336 - Teen Challenge, food, miscellaneous crafts
337 - Musick, LaVerne, S and L Crafts, bird houses, baby items, earrings, kitchen towels
338 - Aebi, Robert and Peggy, Lord's Diversified, Inc., abstract art done on tile and art board, pen and inks, cow skulls, canes, leather
339 - DeZago, Ralph J., Gems and Jewelry, hand made jewelry
340 - Gunn, Beth, Farm Shed Goods and Gifts, diabetic and regular jams and jellies, cabinets and breadboxes, folk art, Tole painting
341, 342 - Pierce, Robert, Cedar Furniture Classics, cedar patio furniture
7th St. north of High - west side
343 - Vinland P.T.O., food
344 - Flowers, Del and Brenda, Threadworks Embroidery, computerized custom embroidery, jewelry, decorative mirrors
345 - Maddex, Bob, Blessing Times Jams and Jellies, jellies, jams, fudge
346 - BHS Wrestlers, food
347, 348 - Stanley, Ronald C., Lifewire, wire art wall sculptures
349 - BHS Band Boosters, food
350 - Bullock, Clifton G., wooden pens and pencils, wood handled letter openers bottle cork stoppers
351 - White, Jim, Ole Village Blacksmith, iron art work, BBQ tools, candle holders, small horseshoes, hearts
352, 353 - Ishmael , Stephen and Lori, Kettle Korn, sugar kettle corn
354, 355 - Bilson, Shannon, Craftshop, appliqued t-shirts, sweats and stretch bracelets
356 - EMERGENCY
357 - EMERGENCY
358 - EMERGENCY
359 - EMERGENCY
360 - EMERGENCY
7th St. north of High - east side
361 - Nelson, Phyllis, pottery, photographs, jewelry
362, 353 - Farber, Cindy and Phil, Cindy's Country Classics, appliqued and embroidered apparel, denim coats, shirts, vests
364 - Price, Jeannie, The Shivering Sheep, hand felted hats and bags
365 - Scott, Andrea, Crafty in a Good Way, hand-dyed and handspun yarn
366 - Scott, Tristan, T. Scott Photography, photography
367 - Kelley, Sandie and Ulland, Brandi, Victorian Rose, decorated and painted chairs, Victorian hats, hat stands, pins
368 - Durr, Aundray, Painted Dreams Studios, pastel paintings on black recycled paper
High St., north side 7th St. to 8th St.
400 - Ashley, Suzanne, cowboy boot purses, fabric purses, soft sculpture animals
401 - Gates, D. W., White Robin Photography, nature photography, Douglas and Shawnee Counties
402 - Dalquest, Wendy, Red Ribbon Acres, handmade goat milk soap, bath salts, washcloths, bath mitts, dog and cat treats
403 - Brothers, Carl, pottery
404 - Watts, Nancy A., oil paintings on canvas, wood, metal, antiques, ornaments, etc.
405 - Rudzik, Maggie, Maggie's Stained Glass, stained glass windows, 3-D items, lawn art, suncatchers, kaleidoscopes, mosaics, jewelry, lamps
406, 407 - Norton, Susie, Sterling Creations mother's bracelets, sterling silver jewelry
408, 409 - Martin, Scott, Crafts by Sugar Daddy's, bottled barbeque sauce in gift baskets
410 - Becker, Karen, The Purple Gate, Pine needle baskets
411 - Sherri McKinney, Spare Time Crafts, seasonal characters made of terra cotta flowerpots
412 - Gnagi, Genie, Works From the Heart,KU/KSU and College jewelry, high school jewelry
413 - Moyer, Mary, Mad About Mosaics, mosaic stepping stones, mirrors, coasters, all hand decorated
414, 415 - White, Anita, Town and Country Republican Women, political literature and baked goods
416 - Delta Tau Delta Parents Group, food
417 - Pressgrove, Martin, sno cones
418, 419 - Bay, Larry and Patricia, P. L. Decorators, glass blowing, stained glass, peanut butter, Christmas items
420 - Estes, Pam, printers miniatures, photo albums, wood items
421 - Yam, Sapsorrow, food, Variety of Yummies cheesecake, baked goods
High St., south side 8th St. to 7th St.
422 - Hochman, Diane M., Bows 'N' More, hair accessories, jewelry, pillow, wall hangings, centerpieces
423 - Lovett, Vicki, Cross Creek Ranch, barn wood frames, trays, cowboy wreaths
424 - Ridenour, Beth and Susan
425 - Derr, Christy, Cameo Photography, photography
426, 427 - Borgeson, Jim, Toby the Horse, book
428 - Bartell, Don, Sawdust Dreams, scroll saw work, wildlife, Christmas, intarsia, military
429 - Klier, Mary Jo, Art of Glass glass and painted items, polar fleece
430, 431 - Solomons Antiques, antiques
432, 433 - Espress Yourself, food
434, 435 - Hickory Creek BBQ, food
436, 437 - L and M, food
438 - Emergency
439 - Moege, Dorothy, quilts, quillows, children's teepees, potato bags, towels
440 - Baldwin City Signal, newspaper
441 - Georges, Carrie, Carrie Lynn, bread mix and dip mixes, handmade and packaged
442 - Gonzales, Javier, Big Smile Caricatures, caricatures, mattes, frames and tubes
Booths in Lumberyard Arts Center
450 - Lumberyard Arts Center, exotic wood cutting boards and clipboards, Christmas ornaments
451 - Zimmerman, Carol, Nova Creations, LLC, soaps, lotion, lip balm, lotion sticks, fabric boxes, bowls, bottle bags
452 - Link, David and Anita, Link's Ink T-shirts, sweatshirts, tote bags
453 - Klier, Mary Jo, Art of Glass glass and painted items, polar fleece
454 - Knudsen, Martha, matted prints, note cards, barn books, calendar, magnets
455 - Aulgur, Lisa, hand beaded foot jewelry
456 - Elias, Tina and Claudine Turley, Charity Candles, hand poured scented jar candles
457 - Spencer, Deanna, Heartland Inspirations, embroidery baby bibs, blankets/quilts, shopping cart seat liners; pet scarves, collar covers, blankets, pet-themed shirts
458, 459 - Browning, Julie, Rudy's or Taylor's Treasures, fudge, dips, cookies and brownies
460 - Robert Stewart, Designs by Robert, customized t-shirts and mousepads
Niche on W. side
461 -Emergency Booth
462 - Front East Room - Maple Leaf Festival Vendor check-in and information
High St. - 8th St. to 9th St.
500 - Baker University-Kappa Sig, food, turkey legs
502A,B - Meyer, Heidi, Insight fine Gifts KU/KSU Bronze, crystal, cast stone, jewelry
CARNIVAL- High Street, between 8th and 9th Streets
8th St., west side - Grove to High
600 - Miller, Gerald and Kymbra, J and K Backyard Glass, stained glass lamps, panels, suncatchers
601 - Wiegel, Art and Michelle, Grapevine Ceramics, ceramics
602 - Jobe, Betty, BJ Originals, adult aprons, jr. and activity coverups, baby bonnets, pillow covers, bibs, cuddle blankets
603 - Tara Brown, Tara Brown Photography, photography, greeting cards, development activities
604, 605 - Uehling, Larry and Penny, Heirlooms and Calicos oak, cherry, walnut hope chests, tables, shelves, quilt racks, exotic wood jewelry boxes
606, 607 - Lee, Phyllis, Sweaters and Things, quilts, pillows, table runners, doilies, towels, pot holders, napkins, hats, scarves
608, 609 - Wheat State Pizza food
610, 611 - Quilters Paradise, quilting items, fabrics, notions, gifts and more 613 - Joy Garden, food
614, 615 - Discoveries, unique gift items, cards
616, 617 - Vintage Flea, antiques
618, 619 - Stacy's Dance Studio Inside Stacy's Dance Studio
620 - Kuehl, Jacquelyn J., Recycled Treasures, lamps, welcome lamps, chandeliers, candeliers candelabra, votives
621 - Cole, Shawn and Keller, Diana, Two Sisters Canning Co., dry food mixes and kits
622, 623 - Towle, Larry and Carla Crafts by Towle, sofa tables, shelves, quilt racks, trash bins, painted wood
623A - Reece, Mardy, Under the Sun, suncatchers made from old dishes and lamp crystals
8th St., west side - High to Indiana
624 - Gardner, Dennis and Hiett, Susan, Reflections of Nature, oil paintings, bittersweet wreaths
625 - Curoe, Teresa, fabric seasonal items, scarecrows, pumpkins, angels, Santas, etc.
626 - Keck, Marilyn, Keck Enterprises, jewelry -semi-precious stones set in gold or silver, earrings, rings, pendants
627 - Gerard/Sallee, Sticky Spoons Jelly Co. jellies, sweet bread mixes, gift baskets, aprons
628 - Price, Kathy, K and J Crafts, pillows, lap quilts, gift baskets, puzzle pictures
629 - Kingbury, Julie, Jewelry by Julie, handmade sterling silver and gemstone jewelry
630 - Winkler, Ted and Pat, woodcarvings, walking staffs, fireplace match holders, bark carvings
631 - Howe, Lana, Vintage Soap and Bath, handcrafted goat milk soaps/bath products, candles, potpourri
632 - Donham, Bonnie C., Cookie Lady/ Bonnie's Country Baking, large cookies, muffins, breads, carrot cake, rolls, cinnamon rolls
633 - Zeta Tau Alpha
634 - Nederman, Crystal, photography and photo related items: note cards, magnets, etc.
635, 636 - Stewart, Nancy, N S Products metal art- boot scrapers, chimes, decorative art, tin snowmen
637, 638 - Rogers, Laura, Walnut Street Designs, handmade and hand finished furniture
639 - Ashley, Steve, Stoneware Pottery by Steve, hand thrown pottery, mugs, vases, bowls, pitchers, oil lamps
640 - Fuchs, Dave, Wooden Toys by Dave, variety of wooden trucks, trains, tractors, etc., golf game
8th St.- east side Indiana to High St.
643, A,B,C - Haddox, Donna, DC's Juntiques, rustic yard and garden art
644, 645 - Schermbeck, Richard and Carla, folk art, primitives, furniture, Americana
646 - Benge, Rob, Bobalu's Barefoot Sandals, decorated handcrafted gourds, gourd birdhouses, foot jewelry
647, 648 - Peterson, Don, Fantasea Denim and T's, clothing - decals on denim
649, 650 - Hahner, Margaret, Margo Collectables, preserves, cookies, crocheted items, canvas items, jewelry for kids
651, 652 - Moore, Alex, barn wood furniture, dried florals, rag rugs, ant. Tin clocks
653, 654 - Aggeler, Charleen and Harold, Lindsey Originals, barn wood edged prints, corrugated Tin, saying signs
655, 656 - Griffin, Suzanne, Cadre Enterprises, embroidered clothing, aprons, towels, blankets
657, 658 - Nothouse, Bob, Redstone Pottery, pottery/jewelry
659-663 - Baldwin State Bank
8th Street, east side - High to Grove
INFORMATION BOOTH N.E. corner of 8th and High
RED CROSS- First Aid Station N. E. corner of 8th and High
664 - Lion's Club, food, Funnel Cakes
665 - Dorfman, Beth, Forever Files, hand painted glass nail files
666 - Shupe, Stephanie and Lobb, Tom, items for pets and their humans, jewelry, pillow, cat scrunchies, scarves, etc.
667 - Parker, Ron, Woodcutter, tin lunch box music boxes
668, 669 - Cussen, Tom, Sundance Jewelry, jewelry
670, 671 - Burgett, Brenda, Bab's Creations,appliqued clothing
Saturday only - front of First Methodist Church 8th and Grove
672 - Green, Gwen, handcrafted jewelry using natural, semi-precious stones and silver
673 - Douglas County Democrats, political literature
674 - Blume, Jewel, clothing and purses
675 - Olmstead, David L., Coal Creek Gospel hall, gospel calendars, wall text, reading materials NFS
676 - Ringel, Tommi, Tommi Crystal Designs, jewelry - wearable collage art under glass.
677 - Jodi Hirschman, Urban Treasures, handmade jewelry
678 - Steenbock, Sheila, Kansas By Design, painted sunflowers on home decor items
679 - Moore, Matt and Pippert, Jeff, Cedar Creations, shelves, clocks, magazine racks, bar stools, benches of cedar 8th St, east side Grove toward Fremont
680 - Baker University Admissions
680A - Baker University Basketball, food
681 - Noll, Jill and Black, Rhonda, floral arrangements and frames made from sea shells
682 - Steele, Debrah, Debrah's Jewelry Box, handcrafted jewelry
683-685, Gaines, Bob and Linda, Designs by L, hand painted glass pictures, windows, mirrors, coasters, birdbaths, stepping stones, curio cabinets, bird feeders
686, 687 - Oehlert and Breithaupt Petals, Pansies and Panes, antique window paintings
688 - Healy, Valerie, Valerie's Crafts and Gifts, baby bibs, booties, sweater sets, stuffed animals, color book
689, 690 - Sprague, Linda, wood crafts, seasonal, southwest
691 - Hosey-Stern, Jane, "Junque artist," wisdom signs, jewelry from buttons, typewriter keys, vintage pieces, purses
692 - Barnes, Anna, Mrs. GoodScents, soy candles, lotions, bath and body
693, 694 - Vormehr/Youngquist, Vormehr and Youngquist Gallery watercolor paintings and prints of Kansas scenes and KU, Baker, Ottawa, KSU, note cards, etc.
695 - Landis, Angi, Angi's Art photography, digital imaging
696 - Pappas, Gail, Nice Things, decoupage and painted baskets, yard art, fall florals, garlands
697 - Fritts, Monty, MyHotSauces.com, hot sauces and picante sauces
698 - Wright, Everett and Kitty, Wright's Country Cottage, painted wood carousels, holiday, personalized ornaments and gifts
699 - Molenda, Bert, Olivia's felted wool purses, sweaters, rag bags, embellished jean jackets and skirts
699A - Emergency Booth
700 - Robinson, Gloria, Jewelry by Glo, handmade beaded jewelry, handmade ink pens
701, 702 - Baker, Kevin and Martie, KB-Designs, Inc., plasma cut metal art
703 - Wiley, Rob, The Scented Flame, LLC, candles, candle access., incense sticks, sachets
704 - Wilson, Joe, MO. Northern Pecan Growers, LLC, fresh pecans, flavored pecans, pecan candies
705 - Baldwin High Cheer Squad, food
706 - Grady, Theresa,T's Jewelry, beaded jewelry with silver and gemstones
707 - Klusman, Angela, crochet afghans, rugs, shrugs, shawls, ponchos accessories, quilted wall hangings
708 - Musick, Merritt, J and S Metal Art, metal wall art, western, southwestern, wildlife, laptop quilts and scrubbies
709 - Johnson, Pat, P.J. Crafters napkins, shirts, bath products, blankets
710 - Johnson, Miriam, A Family Affair, tie dye, t-shirts, transfers, halos, kitchen towels
711 - Chancellor, Linda, Slate Creek Scents, container candles, bath and body lotions, bath salts, lip gloss and balm
712 - Davidson, Sandy and Baptist, Avis Garrett, pottery and portrait artist
713 - Holmes-Lara, Tricia, Holmes-Made Salsa, home-made salsas and jalapeno jams
714 - Schmidt, Christy, XY Soy Scents, 100% soy container candles
715 - Freeman, Carolyn, Forget Me Not Productions appliqued shirts, vests, penny rug table runners, placemats, boxes
716 - Baker University Mungano, dog food treats
717 Foster, Emily, Feminine Flair Jewelry, handmade bracelets, necklaces, pendants bookmarks, key chains wall hangings, etc.
718 - Shafer, Ken and Kathy, Kathy's Corner, Post Office box door banks, painted gourds, Button watches
720, 721 - Lane, Dale and Jody, Pine Creek, painted wood, Americana, dolls, painted antiques, chairs, pans, tables
722 - Schlaegel, Gary, Schlaegel Popcorn homegrown popcorn (not popped) in various bags, buckets, etc.
723 - Quinn, Ada, Oakmont Cellars, local themed hand beaded crafts, mostly candles
724 - Hoffman, Linda, Linda's Sweet Delights, sweet breads, jellies, salsa, cookies, brownies
Saturday only 725 Kramer, Carol, antique bird houses
726, 727 - Green, Cheryl, Rose and Thistle, wreaths and centerpieces
728 - Cook, Annette, Amore Chocolate Pizza Co., chocolate pizzas, pretzels and water
729 - Alpha Chi Omega, food bepops (beef and pork sausage on sticks) caramel apples
730 - Lawrence Landscape , live trees
736 - Belzer, Jeffrey W., J and D Glassworks, stained glass and fused glass
737 - Duty, Laura, Creative Designs, Halloween decor, polymer clay art, tile magnets, tile games
738 - Overdick, Glenn and Morrison, Janene, Springbrook Candleworks, soy wax candles
Saturday only 739 - Carter, Debbie and Keith, Carter Creations wood products, decorative paintings 8th St., east side Dearborn to Chapel
741 - BHS Bulldog Baseball, food, pizza, pop, water.
742-753 - United States Army, rock climbing, information
Copyright 2018 The Lawrence Journal-World. All rights reserved. This material may not be published, broadcast, rewritten or redistributed. We strive to uphold our values for every story published.