It has been a pretty good four-year run for Erin Kracl at Eudora High.
A starter for the EHS volleyball team from the moment she stepped on the floor as a freshman, the 5-foot-8 senior middle blocker has taken part in two straight trips to the Class 4A state tournament, was named the Journal-World's All-Area Player of the Year last fall and currently leads the Cardinals in kills and blocks as they take their sterling 31-5 record into tonight's final quadrangular meet of the season - at defending 4A state champ Santa Fe Trail.
Along the way, she earned a scholarship to the University of South Florida in Tampa, Fla., and will sign her letter-of-intent to join the Bulls on Nov. 8 - the three-month anniversary of her decision to tap USF from among a crowded field of NCAA Division I suitors.
But before she can shift her focus to the next level, she hopes to find a way to help her current squad find another gear. Tonight's battle for area supremacy will be followed by Saturday's trek to Spring Hill for the Class 4A sub-state tournament, and should Eudora take care of business, a third consecutive trip to state.
You've been a four-year starter at Eudora. What's it feel like to be coming into the final few weeks of your varsity career?
It's exciting. It's sad at the same time. It's something that you've been waiting for for all four years, for you to be the senior and for you to have those underclassmen play for you. I'm really excited about it. Of course, I don't want it to come to an end or anything like that. But it's exciting. Also, it will be my last time playing with these girls, then I'll move on to college and meet new people. But it's exciting to have these last few weeks to play with these people you've been playing with the last four years, especially my other seniors. So it's fun.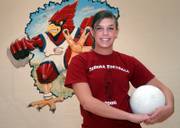 You've experienced success at Eudora with state trips the last two years. How do you feel about your chances of getting there this year?
We have a very good chance. If we play well, of course, and if we play together, we'll be fine. It's just a matter of who wants it more, and I guess we'll see Saturday, actually very soon, how things turn out. Of course, we're all hoping for the best. If we play our hardest, we'll come out happy.
Before you get that chance, you finish up the regular season tonight at Santa Fe Trail, the defending Class 4A state champion. Is this a match you've looked forward to and had circled on your calendar?
Yeah. There's a lot of teams we've played this year ... where we haven't had a lot of competition. So when we do finally have nights where we have really good competition, we want to take advantage of those nights. You play those nights to prepare you for the big times - sub-state and state. So playing them will not only help us see where we're at, but it will also prepare us for sub-state.
You've experienced the postseason push as an underclassmen. Now that you're a senior and one of the experienced team leaders, what types of things have you been sharing with your teammates to get them ready for what's going to happen this weekend?
It's more like, just don't talk about it that much. Because when you talk about it too much, especially with being young, when you think about things like that, you get a lot of nerves, and you build up your nerves. So really you just try to focus on what's coming next. So right now we're focusing on (tonight), of course, and you just try to keep the underclassmen calm and relaxed, because when you play tense you don't play very well. So as long as you keep the mood light, make 'em laugh, everything will be all right.
Your originally looked at Oklahoma and a number of schools in Texas as your prospective college home. What made you finally decide on South Florida?
Throughout club season, they (the coaches) were at almost every single one of my games, at least one of them, whether it was Claire (Lessinger) the head coach, or Nikki (Shade), the assistant coach. They were always there at my games. They rarely missed a game of mine. Having that support, knowing that they want you that bad that they're going to watch every game you play in ... and then, I'm studying sports medicine, and South Florida has a great medical program. And the location. I can't complain about the location. I'm not going to complain about the beach. That's my scene. All in all, I was like, "That's where I want to go."
Copyright 2018 The Lawrence Journal-World. All rights reserved. This material may not be published, broadcast, rewritten or redistributed. We strive to uphold our values for every story published.