Novelty clocks have entranced buyers for centuries. In the 19th century, short bob pendulums and reliable spring movements made new types of clocks possible. Makers made figural cases of men, women, peddlers, dogs, lions, houses, churches and more. Then they put a clock in an appropriate place, like the church steeple, or a strange spot, like the center of a woman's stomach. The "blinking eye" mechanism was patented in 1857 by Pietro Cinquini, then assigned to Bradley and Hubbard who made the cases but had other companies make the works. Other companies in the United States and Europe made moving-eye clocks. Soon novelty clocks with other moving parts were made. The tongues on dogs moved in and out, tails wagged on dogs or cats, and the cuckoo came out of the clock to tell the hour. These animated clocks have always interested collectors, and fakes are known that were made as early as the 1930s. The original blinking-eye clock cases were made of cast iron, and early fakes were often made of brass. Today, cast-iron and aluminum fakes are being made, probably in China. The fakes are made of poor-quality cast iron. Beware if the clock is an amazing bargain. A good blinking-eye or early novelty clock sells for thousands of dollars.
Q: I have had two antique pieces of Doulton china for many years. One is a pitcher and the other is either a very large sugar bowl or a cracker jar. Both are marked with a stamped picture of a folded banner around a staff with a fleur-de-lis at each end. The words on the banner read "Doulton's Taunton Burslem." How old are they?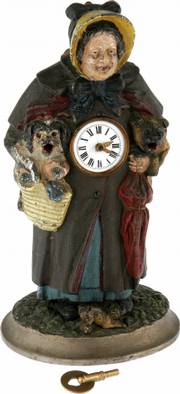 A: You have a creamer and sugar that date from the late 1800s. Henry and James Doulton purchased a major interest in Pinder, Bourne & Co., a pottery in Burslem, Staffordshire, England, in 1878. They changed the pottery's name to Doulton & Co. in 1882. The word "Taunton" in the mark might be a pattern name. Sugar used to be sold in large blocks that were broken into smaller chunks for storing in sugar bowls. That's why many 19th-century sugar bowls are larger than the ones we use today.
Q: I own an old washboard with a wooden frame and glass rubbing surface. It's marked "National Washboard Co., Chicago, Saginaw, Memphis, Patent 1283148, Design 52236, Atlantic No. 510." Can you tell me when it was made?
A: You gave us two big clues, the patent number and the design patent number. They were issued in the same year, 1918. That doesn't mean your washboard was made that year. It means it wasn't made earlier than that. By the 1960s, the National Washboard Co. was out of business. Atlantic model washboards made by National sell for $10 to $50 today.
Q: I have two 1960s dolls I'd like to learn more about. One is a Giggles doll, still in her original clothing and box. The other is Cheerful Tearful, also in her original box. Both dolls have been played with. Someone has offered to buy the dolls, but I have no idea what they're worth.
A: The Ideal Toy Co. made an 18-inch Giggles doll in 1966. If your boxed doll, in original and unfaded clothing, is in excellent condition - that is, if she does not show much wear - she is worth about $100. If she were mint, she would sell for $125 to $150. Mattel made your Cheerful Tearful doll also in 1966. She came in 7-inch and 13-inch versions. The smaller doll was sold with a play case. Either version retails today for about $50.
Tip
Most burglaries take place between 9 a.m. and 3 p.m., when houses are empty. Don't go out during the day without locking your doors and windows.
¢
The Kovels answer as many questions as possible through the column. By sending a letter with a question, you give full permission for use in the column or any other Kovel forum. Names and addresses will not be published. We cannot guarantee the return of any photograph, but if a stamped envelope is included, we will try. The volume of mail makes personal answers or appraisals impossible. Write to Kovels, (Lawrence Journal-World), King Features Syndicate, 300 W. 57th St., New York, NY 10019.
Copyright 2018 The Lawrence Journal-World. All rights reserved. This material may not be published, broadcast, rewritten or redistributed. We strive to uphold our values for every story published.