It's no mystery why Kansas University has developed a tendency toward blowing big leads, as was the case again Saturday at Memorial Stadium in a 42-32 loss to an Oklahoma State team that did all its scoring in the second half.
It takes quarterbacks awhile to figure out that when playing against the Jayhawks, it pays to forget everything they've learned about the position and operate under completely new rules.
For example, quarterbacks are taught to think quickly and get rid of the ball quickly. Wrong approach against KU, where relaxing and taking your time is the smart play. In the rare instances pressure does come, just outrun it the way Cowboys quarterback Bobby Reid did on his way to completing 23 of 35 passes for 411 yards and five touchdowns. He was sacked twice.
It also takes quarterbacks awhile to learn the smart way to use their eyes when facing KU. All their lives, they've been taught to find the open receiver and deliver the ball to him. Here's a better approach: Find the blue jersey with the No. 3 and the name Talib on it. Then throw the ball anywhere else on the field.
If ever a 17-0 third-quarter lead appeared shaky, this was the time.
Photo Gallery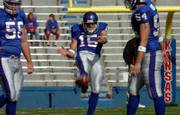 KU vs. OSU
"The No. 1 problem is that we made some plays in the secondary in the first half, especially Aqib Talib, but we knew as coaches that there were some people open," KU coach Mark Mangino said. "We had to get some people covered up before Oklahoma State found out about it. Apparently, we didn't do a good enough job of that, and Oklahoma State did a good job of finding the holes. They made some plays, and we played very, very poorly in pass defense. : Talib made plays, but he is 1/11th of the unit. We need a little more than that."
After all, you can't win a football game with one player, unless of course that player goes for 300 receiving yards and four touchdowns, as did Adarius Bowman against a zone defense that had more holes than the alibis of O.J. Simpson and Robert Blake combined.
Until KU proves otherwise, it's no longer appropriate to use the term "bad loss" for one of its games. Now the word "loss" should come before "bad," as in "another loss for a bad team."
Winning Big 12 games requires having enough experienced, talented players. The basic problem here is that the talent level of most experienced players suits them for reserve roles, and the experience level of most of the more talented players suits them for the same. Somebody has to start.
As the injuries mount, KU's is a roster with all the depth of a Paris Hilton conversation.
The NCAA penalties, on the light side, allow Kansas to play in a bowl game. Even that low standard looks like a stretch for KU (3-4), which would need a minimum of six victories to go bowling.
That would require a 3-2 record against a schedule that has home games against Colorado (easy victory over Texas Tech on Saturday) and Kansas State (defeated Oklahoma State a week ago Saturday) and road games at Baylor (three consecutive Big 12 victories before losing to Texas), Iowa State and Missouri (Chase Daniel's salivating at the thought of shredding the KU secondary).
Impossible? Certainly not. Likely? No.
Copyright 2018 The Lawrence Journal-World. All rights reserved. This material may not be published, broadcast, rewritten or redistributed. We strive to uphold our values for every story published.