Kansas City, Mo. — Buck O'Neil, the former player-manager who became a beloved spokesman for the Negro Leagues, was remembered Saturday for his capacity "to love even in the face of hatred."
"Buck O'Neil always had a smile for you," said the Rev. Spencer Francis Barrett, pastor of the Bethel A.M.E. church that O'Neil faithfully attended since 1947. "It didn't matter what you said about him. It didn't matter how you treated him."
More than 600 friends and family members, including several Hall of Famers and prominent business and civic leaders, gathered for the private funeral service near the Negro Leagues Museum that O'Neil helped found in 1990. Later Saturday, several thousand people attended a public memorial service emceed by Hall of Famer Joe Morgan.
At that event, Julia Irene Kauffman, daughter of the founder of the Kansas City Royals, announced a gift of $1 million toward construction of the Buck O'Neil Education and Research Center. The money will come from a donor-advised fund established after the Kauffman family's sale of the Royals.
The center, expected to cost around $15 million, will be located in the historic Paseo YMCA Building where the Negro Leagues were founded in 1920.
"This dream of Buck's, the Buck O'Neil Education and Research Center, it is not a dream. It will be a reality," Kauffman said. "We will put Buck's dream into reality. Thank God for Buck."
On Friday, one week after he died just a few weeks short of his 95th birthday, more than 10,000 people filed past his open casket at the museum.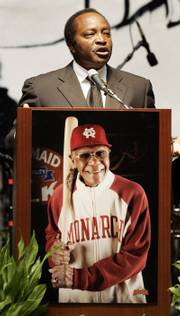 "Ninety-four years is a long time," O'Neil's close friend Mark Bryant told the congregation. "He enjoyed the adoration of a nation."
John "Buck" O'Neil enjoyed a distinguished career as a Negro Leagues batting champion and player-manager and was a trailblazing major-league coach and scout. When filmmaker Ken Burns featured him in a documentary on the history of baseball, O'Neil became a national celebrity.
In February, he fell one vote short of making the Hall of Fame.
Lou Brock, one of several Hall of Famers whom O'Neil discovered and signed as a scout, recalled their first meeting. Brock was a teenager at the time.
"He got me started on a journey that became a 19-year major-league baseball career," Brock said. "It's no wonder that baseball is considered America's pastime. Buck was one of its architects. He helped shape the game."
Joining Brock in the congregation were fellow Hall of Famers Ernie Banks, Billy Williams and George Brett, as well as Atlanta Braves general manager John Schuerholz and Sen. Jim Talent, R-Mo.
Brett, a three-time batting champion with the Royals, wiped tears from his eyes during the service. About 15 graying Negro Leagues players also attended. Many, stooped with age, had to be assisted up and down the church steps.
BASEBALL
Fox fires Lyons for comment
Detroit - Fox baseball broadcaster Steve Lyons has been fired for making a racially insensitive comment directed at colleague Lou Piniella's Hispanic heritage on the air during Game 3 of the American League championship series.
SOCCER
Red Bulls edge Wizards
East Rutherford, N.J. - Amado Guevara scored his third career hat trick to lead New York to a 3-2 victory over the Kansas City Wizards on Saturday night and put the Red Bulls into the Major League Soccer playoffs.
GOLF
Sorenstam pulls ahead
Palm Desert, Calif. - Annika Sorenstam built another quick lead and this time made it last, holing a 12-foot birdie on her final hole Saturday for a 66 to take a three-shot lead over Lorena Ochoa in the Samsung World Championship. Sorenstam posted the best score of this tournament and finished three rounds at 12-under 204.
Hoffman 17 under in Vegas
Las Vegas - Daniel Chopra was the clubhouse leader at 15 under after an 8-under 64, and Charley Hoffman was 17 under with four holes to play when darkness forced the suspension of play in the third round of the rain-delayed Frys.com Open.
Haas leads Champions event
Spring, Texas - Jay Haas birdied the final four holes for a 9-under 63 - matching his best round on the Champions Tour - and a five-shot lead Saturday after two rounds in the Administaff Small Business Classic.
Goosen up by five in China
Sanya, China - Defending champion Retief Goosen shot a 5-under-par 67 Saturday, including an eagle and five birdies, to extend his lead to five strokes heading into the final round of the China Masters.
COLLEGE BASKETBALL
Recruit switches to Indiana
Chicago - On Monday, Eric Gordon walked into the office of his high school basketball coach and made a long-awaited proclamation: The prized recruit knew where he wanted to play college basketball. Indianapolis North Central coach Doug Mitchell didn't ask Gordon if he had picked Illinois or Indiana and suggested he let the decision simmer for a day or two. But the explosive guard's mind did not waver this time.
Friday, Gordon's father made it public knowledge: Eric Gordon had backed off an oral commitment he made to Illinois last year and intends to sign with Indiana, dealing a substantial blow to Illini coach Bruce Weber.
HIGH SCHOOL FOOTBALL
Player scores 10 TDs in loss
Lepanto, Ark. - Kendric Smith scored 10 touchdowns, on runs ranging from one to 54 yards, and it still wasn't enough for Hughes High School. Smith broke the state record for touchdowns in a game, the last coming in overtime, but Hughes lost, 73-72, Friday night to East Poinsett County.
TENNIS
Blake wins in Stockholm
Stockholm, Sweden - Defending champion James Blake edged Robin Soderling, 7-5, 7-6 (4), Saturday to reach the Stockholm Open final. The second-seeded American will play Jarkko Nieminen of Finland.
Copyright 2018 The Lawrence Journal-World. All rights reserved. This material may not be published, broadcast, rewritten or redistributed. We strive to uphold our values for every story published.