Photo Gallery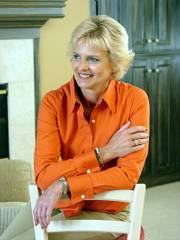 Meyer & McGinness
Doctor Marilee McGinness usually does surgeries in Lawrence Memorial Hospital's operating rooms twice a week. She does less complicated versions in her office.
About 80 percent of her work involves women's breasts.
Two weeks ago, she worked three different days in the operating rooms and removed six breasts from four patients.
"We try hard not to do mastectomies," she said, and she could not recall dealing with that many mastectomies in such a short time.
McGinness grew up on a farm near Marion and spent some of her early years in a one-room schoolhouse. Her first advanced degree was in piano from Oral Roberts University.
"I couldn't see myself teaching piano and got accepted as one of the first 20 Oral Roberts University medical school students. She was 33 when she got her degree in surgery from the Kansas University School of Medicine.
She still plays the baby grand piano sitting in her living room.
Copyright 2018 The Lawrence Journal-World. All rights reserved. This material may not be published, broadcast, rewritten or redistributed. We strive to uphold our values for every story published.