Kansas University's basketball players appeared to be in a fog Saturday morning, just 12 hours after Late Night in the Phog in Allen Fieldhouse.
The first official practice of the season, which tipped off at 9:36 a.m., was something of a sleepy affair.
"I'd rate that one a 5 or a 4 (on a scale of 1 to 10)," sophomore Brandon Rush said after the 21â2-hour session, perhaps best summed by coach Bill Self's declaration to his squad, "Bad day today, guys."
"We've got to focus, stop going through the motions and go hard all the time, try to keep coach Self off us. He was really mad. He left the locker room while talking to us," Rush added.
Self had his players run a batch of suicide sprints during the 40-minute scrimmage portion of the practice for uninspired play. He admitted he was a bit red-faced in the locker room.
"I didn't storm out. I walked out briskly," he said with a smile. "I was upset because we practiced like a team that was thinking they already arrived. Today was not one of our better days. We will practice better on Monday."
The first hour and 50 minutes, which included halfcourt and fullcourt drills but no live scrimmaging, impressed the ASSIST Foundation members who donated to Self's charitable foundation for the right to shadow Self over the weekend.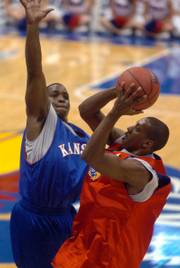 Also impressed was former KU coach Ted Owens, who was seated in the stands with his former player, Roger Morningstar.
"They look deep. It's probably the deepest Kansas team in a while. (Sherron) Collins is the most physical guard since Aubrey Nash - stocky," Owens said, recalling one of his former players.
Owens and Morningstar weren't on hand for the live scrimmaging, having headed to the KU football game against Oklahoma State.
"I know we're going to get a lot better," Rush said.
Collins cramps: Collins, a freshman guard who suffered severe cramps at the conclusion of practice, was taken to the hospital, where he was given fluids via IVs.
"He's fine," Self reported, indicating Collins didn't require an overnight stay.
Collins drew rave reviews for his play in Friday's 20-minute intrasquad scrimmage at Late Night.
"Sherron did a good job pushing the ball," junior guard Jeremy Case said moments after grabbing the microphone and thanking KU's fans for nearly filling the building again for Late Night.
"I think Shady (Darrell Arthur) shot well. Darnell (Jackson) attacked the rim. It was fun. It's always fun playing in the fieldhouse, but it was kind of sloppy," Case added. "We're so used to playing against each other. We know each other's moves so well."
Hectic slate: The Jayhawks likely will benefit from returning to a normal schedule Monday.
"We have had a lot going on the last couple of days," Self said, referring to Late Night, a huge recruiting weekend and the 10 individuals shadowing him for his inaugural foundation fundraising event. In addition, most of the players had relatives and friends in town for Late Night.
"They were tired," Self said of Saturday's practice.
Copyright 2018 The Lawrence Journal-World. All rights reserved. This material may not be published, broadcast, rewritten or redistributed. We strive to uphold our values for every story published.