Photo Gallery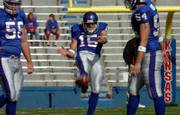 KU vs. OSU
Master enough meltdowns, and it turns into a marvelous sight - art of how to lose a game and do it in immensely entertaining fashion.
Kansas University's football team has become a veteran at blowing leads, but Saturday's 42-32 loss to Oklahoma State might have taken the cake.
Down 17-0 early in the third quarter, the Cowboys delivered a wicked combination of game-changing blows that never seemed to stop, like the Cowboys had two seasons worth of playmaking that exploded in one impressive half.
KU coach Mark Mangino offered no excuses after the game. There was no need; all 41,203 spectators Saturday knew exactly what happened.
"Did you watch the game? You saw their passing game?" Mangino said. "They outplayed us."
And the way they did it was historical. Oklahoma State had 411 yards passing, and most went to OSU junior Adarius Bowman, a name Kansas fans won't soon forget. All game long, quarterback Bobby Reid found Bowman where KU defenders weren't, and the final tally was staggering: Bowman had 13 catches for 300 yards and four touchdowns.
That's no typo. Instead, it's the 11th-best receiving performance in NCAA Division I-A history and the best the Big 12 Conference ever has seen.
The real killer for Kansas? Not one of those yards was meaningless.
Go figure
300 Receiving yards for OSU's Adarius Bowman, on 13 catches
411 Passing yards for OSU's Bobby Reid
300 Receiving yards for OSU's Adarius Bowman, on 13 catches
411 Passing yards for OSU's Bobby Reid
187 Passing yards for KU's Kerry Meier
1-5 Penalties-yards against KU (delay of game, on Kansas' first possession)
0, 14 First-half points scored by the Cowboys, Jayhawks
42, 18 Second-half points scored by the Cowboys, Jayhawks
603, 7.7 OSU's total offensive yards, yards per play
365, 5.9 KU's total offensive yards, yards per play
Bowman had touchdown catches of 54, 25, 55 and 64 yards in one 16-minute stretch in the second half. Before Bowman's scoring rampage began, Kansas had a 17-0 lead. Afterward, the Cowboys were up 35-25, and the Jayhawks (3-4 overall, 0-3 Big 12 Conference) were on their way to another conference loss.
"He made plays, and we could barely contest him," Mangino said of Bowman, before shaking his head and adding, "He gets my vote for the Heisman."
Still, it goes without saying that KU's pass defense made a good receiver look legendary. The Cowboys' huge passing total marks the third time this year an opponent has torched Kansas for at least 375 yards. Each week, Mangino had deemed the problems correctable. But he was a little more honest Saturday.
"I think we've tried to be creative," Mangino said. "But as the season goes on, you just can't hide weaknesses. They're exposed sooner or later."
And KU's big, white elephant overshadowed the play of quarterback Kerry Meier, who did an adequate job back in the saddle. After missing three games because of a shoulder injury, Meier returned and completed 15 of 27 passes for 187 yards and three touchdowns.
He also rushed for 70 yards on 20 carries, mainly because Oklahoma State keyed on KU's horse, Jon Cornish. Battling an undisclosed injury, Cornish had 35 yards rushing on his first touch, but finished with only 10 carries for 55 yards.
Kansas' offense did enough Saturday, and early on, so did the defense. In jumping to a 17-0 lead, the Jayhawks forced four turnovers and scored off three of them. They also made a fourth-down stop at their own one-yard line to keep the Cowboys (4-2, 1-1) off the scoreboard.
But Oklahoma State scored in the third quarter when Reid found Bowman the first time. They the Cowboys tried - and succeeded - with an onside "bunt" kick, perhaps blowing the momentum from the blue sideline over to the orange.
The Cowboys then scored again. And again. And again. And 42 second-half points later, they left the Jayhawks stunned, shocked and, above all, defeated.
None of the six KU players made available to the media after Saturday's game - which included zero from the secondary - said the locker room was deflated despite the humbling loss. There are five games to go, they claimed, including next week's tilt at Baylor.
"We're upset," receiver Marcus Henry said, "but we know we could've won that game."
Of course, such comments are getting to be a habit - an art, if you will.
Copyright 2018 The Lawrence Journal-World. All rights reserved. This material may not be published, broadcast, rewritten or redistributed. We strive to uphold our values for every story published.