St. Louis — During batting practice, scoreboards at Busch Stadium billed Game 3 of the NL championship series as "Gotham vs Gateway."
With Jeff Suppan doing just about everything for St. Louis, "No contest" would have been much more appropriate.
Suppan hit a rare home run and pitched a tidy masterpiece Saturday night that gave the St. Louis Cardinals control of the NLCS against the suddenly staggering New York Mets.
Scott Spiezio smacked another big triple, and St. Louis dazzled on defense, dominating the Mets for a 5-0 victory and a 2-1 lead in the best-of-seven series.
New York lost yet another pitcher to injury when an ineffective Steve Trachsel was clocked by Preston Wilson's comebacker. On offense, the Mets' normally imposing lineup hardly threatened against Suppan, who allowed three hits in eight crisp innings and homered against Trachsel for the second time in two years.
"They say I don't smile in the dugout. I was smiling there, man," Cardinals manager Tony La Russa said. "I thought we got a one-run gift."
With a sea of red-clad Cardinals fans twirling their colorful towels, St. Louis moved within two victories of a trip to the World Series to face the Detroit Tigers, who polished off a four-game sweep of Oakland in the ALCS earlier Saturday.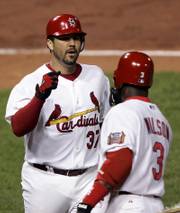 Only 24 hours before, the Mets were in great shape. After tagging Cardinals ace Chris Carpenter, New York led Game 2 by two runs with two outs and none on in the seventh inning.
But the Mets' vaunted bullpen faltered, St. Louis rallied, and the Cardinals grabbed all the momentum with a 9-6 victory.
"I don't think there's any real correlation or carry-over from last night to tonight," New York manager Willie Randolph said.
Now the Mets, who cruised to an NL East title and tied the crosstown Yankees for the best regular-season record in baseball, will pin their hopes on erratic lefty Oliver Perez in Game 4. With a 3-13 record and 6.55 earned-run average, he'll face Cardinals rookie Anthony Reyes.
"We've been in tougher spots than this," Randolph said. "We feel like we're in pretty good shape, even though we're down 2-1. Things could change real, real quick, so we'll get some rest tonight, and I guarantee you we'll be ready to play tomorrow."
But while New York keeps losing key players to injuries, the Cardinals are beginning to get them back.
All-Star third baseman Scott Rolen, hampered by a sore left shoulder, returned to the lineup and snapped a 1-for-15 skid with a fifth-inning single. He also made a couple of fine plays in the field.
Trachsel left with a bruised right thigh in the second after getting struck by Wilson's smash, ending a horrendous performance in what could have been his final outing with New York.
"It stiffened up pretty quickly, and I wasn't able to drive off that leg," Trachsel said.
Mets vs. Cardinals
When: 7:05 tonight Where: St. Louis Pitchers: Perez (3-13) vs. Reyes (5-8) TV: Channel 4
Already missing Pedro Martinez and Orlando Hernandez, the Mets can't afford another serious injury to a starting pitcher.
But if they don't regroup fast, Trachsel's next turn won't come up again anyway.
"He had a little swelling, and we'll keep it iced overnight and see how he feels tomorrow," Randolph said. "He seems OK."
The lone positive for New York: long man Darren Oliver chewed up six scoreless innings, saving the rest of the bullpen a bit for Games 4 and 5. Suppan, who beat Houston's Roger Clemens in Game 7 of the 2004 NLCS, didn't need much help at all.
After losing 3-1 to San Diego in Game 3 of the division series, the right-hander struck out four and walked one Saturday night, throwing 69 of his 99 pitches for strikes in an absolute gem.
"He was so focused and kept making great pitches," La Russa said.
Josh Kinney finished up with a perfect ninth, leaving New York scoreless in its past 12 innings.
With no off day because of Wednesday's rainout in New York, the Mets and Cardinals had a short turnaround between Games 2 and 3. The Cardinals' charter landed at about 3 a.m. CDT, while the Mets got to their hotel about 4:30 a.m.
And New York definitely looked like the tired team in a lethargic performance.
Spiezio sparked St. Louis again with a two-out, two-run triple in the first inning.
With Wilson and Albert Pujols aboard, Spiezio hit a drive toward the right-field line that dropped just in front of a diving Shawn Green and deflected away off his chest.
Of course, it was Spiezio's two-out, two-run triple (on an 0-2 pitch from Guillermo Mota) off the glove of a leaping Green that tied Game 2 and turned the series.
Leading off the second, Suppan connected on an 0-2 offering and the ball bounced off the top of the left-field fence, just beyond the reach of a leaping Endy Chavez.
Copyright 2018 The Lawrence Journal-World. All rights reserved. This material may not be published, broadcast, rewritten or redistributed. We strive to uphold our values for every story published.