Brandon Rush appeared relaxed as he lounged in a chair at center court and held court with 10 reporters during Media Day festivities Friday afternoon in Allen Fieldhouse.
Don't let the smiles and one-liners fool you, though.
Rush is not so cool and carefree regarding what's in store for his sophomore season at Kansas University.
"I feel pressure and nervousness," the Big 12's co-preseason player of the year (with teammate Julian Wright) insisted. "It comes along with being ranked so high. I didn't feel that last year. I felt no pressure at all."
Rush, KU's leading returning scorer (13.5 ppg) and rebounder (5.9 rpg), said he's primed to show steady improvement his sophomore campaign.
He says he's worked hard on dribbling and driving with his left hand - "it still isn't where I want it to be, but much better" - and mentally preparing himself to be the team's go-to guy.
"I think it will be me or Mario this year if it comes down to the last shot," he said of Mario Chalmers, a fellow soph who Rush calls his "best friend on the team.
"I talked to coach (Bill) Self about it. He said I need to step up, play with pride, be the man, take the last shot."
Admittedly he didn't do that at the tail end of his freshman season.
Photo Gallery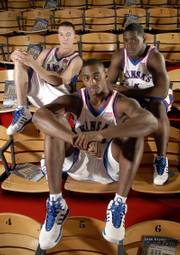 2006-07 KU Basketball Media Day
"I figured I didn't play so well the last 12, 13 games," Rush said. "It wasn't because I was tired. I don't know what it was. My shots weren't falling. I was frustrated with myself."
His performance down the stretch halted the possibility of his bolting KU for the NBA after one year.
Not because he wouldn't have been taken in the two-round draft - Rush likely would have been a late first-rounder to early second-rounder - but because he felt he had more to accomplish.
"I had to come back after that," Rush said. "I knew after we lost (to Bradley in NCAAs) I didn't want to go out like that. I had to play better for the team."
Self has said if Rush has the kind of year he envisions this season, the 21-year-old sophomore likely will head to the pros, though nothing has been officially decided yet.
Rush said he simply wouldn't discuss the issue until after the NCAA Tournament.
"I don't think it's the right thing for the team and myself to say I'm going to leave and have a bum-out year," Rush said. "I'm praying I stay healthy the whole year, injury free."
Rush, who along with buddy Tim Blackwell of UMKC worked out in Los Angeles for three weeks this summer with Rush's brother, Kareem, played at least 25 games of 1-on-1 with his older brother.
Watch 6Sports video report
"I'd say I won about 10 times. Not too bad," Brandon said. "He (Kareem) told me I needed to get a stronger upper body," added Brandon, who carries 210 pounds on his 6-foot-6 frame.
Brandon Rush won't be the only Jayhawk facing NBA questions this season.
KU has a batch of players with pro potential - several playing the perimeter. He was asked if there were enough minutes to go around in the guard group that includes himself, Chalmers, Russell Robinson, Sherron Collins, Rodrick Stewart, Brady Morningstar and Jeremy Case.
"I don't think it's possible to keep everybody happy. Some people will be mad. That's life," Rush said.
"I don't have a clue," he added, asked how Self would juggle the minutes. "He'll find a way to work it out."
There also will be great competition for inside minutes with swingman Julian Wright, Darrell Arthur, Sasha Kaun, Darnell Jackson and C.J. Giles all contenders.
"I think whoever is doing best at practice and whoever takes care of business off the court the best will get the minutes like last year," Giles indicated.
"There are enough minutes for everybody," said Jackson, who indicated he had no plans to red-shirt. "It just depends how hard you are working at practice. You can't be slacking. If C.J. plays more than me, I won't be down on myself, but happy for him."
That kind of attitude will go far, Self maintains.
"These guys are into winning," Self said. "If they are into winning, all those things are put on the back burner."
"Everybody gets along," Rush stressed. "Everybody is talented. I think everybody on this team can get 18, 19 (points) a game. Everybody wants to win. I'm excited about starting practice."
So is Self, who believes in Rush.
"I think his confidence from an aggressiveness standpoint will be a noticeable difference," the coach indicated.
Copyright 2018 The Lawrence Journal-World. All rights reserved. This material may not be published, broadcast, rewritten or redistributed. We strive to uphold our values for every story published.