After his Detroit Lions blew a 14-point fourth-quarter lead and lost their fifth straight in Minneapolis last week, Rod Marinelli said: "A theme throughout our team is not doing our jobs, understanding our jobs and doing what we are coached to do."
Question: If they are not doing what they are coached to do, doesn't that fall on Marinelli?
OK, give the guy a break, he's been a head coach for just five games and had little or nothing to do with assembling the players who perform (or don't perform) for a team that's an NFL worst 21-64 since 2001. So it's probably premature to label him a failure or to suggest he can't coach.
So let the new guys off the hook for now, even Marinelli and Oakland's Art Shell, both winless. If Al Davis takes the credit for the Raiders' success over the years, let him take the blame for their failures.
And let's not get carried away yet by the success of Scott Linehan in St. Louis and Sean Payton in New Orleans, both of whom have won four of their first five games. Let the season - and their careers - play out.
Instead, let's look at how easy it is for an NFL coach, even successful ones, to make mistakes.
For example:
¢ Andy Reid correctly took the blame for the Eagles' only loss this season, in overtime to the Giants after he tried to sit on a 24-7 fourth-quarter lead and New York came back to tie it. And that was in Philadelphia, not at the Meadowlands.
¢ Pittsburgh's Bill Cowher rushed back Ben Roethlisberger 15 days after his appendectomy to start in Jacksonville after Charlie Batch had been more than adequate in his place in a season-opening win over Miami. The Steelers lost that game and the next two and Roethlisberger has seven interceptions and no TD passes in his post-Super Bowl season. Cowher also hasn't quite denied rumors that he might pack it in after this year, his 15th with the Steelers, and take a couple of years off. That can have an effect on a team.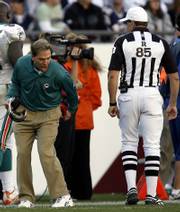 ¢ Kansas City's Herm Edwards chose last week to play it safe and go for a field goal rather than a touchdown after getting to the Arizona 4-yard-line with just over two minutes left and the game tied. The result: Matt Leinart drove the Cardinals far enough to give Neil Rackers, one of the game's best kickers, a shot at a 51-yarder that could have tied it.
Rackers missed and the Chiefs won. That's Herm - two years ago he played prevent offense with the Jets in a playoff game in Pittsburgh and the Steelers won after Doug Brien missed two potential winning field goals.
¢ San Diego's Marty Schottenheimer, the charter member of the "play it safe," school, decided to sit on a 13-7 lead in Baltimore two weeks ago, throwing only eight times in the second half. So Steve McNair ended up driving the Ravens down the field for a late TD to win. Last week, Schottenheimer turned Philip Rivers loose in his fourth start and Rivers led the Chargers to a win over Cowher's Steelers.
But in the playoffs the week before Edwards played it safe in Pittsburgh, Schottenheimer did the same thing against Edwards' Jets, and Nate Kaeding missed a long field-goal attempt that he might have gotten to try from closer. The Jets went on to win.
¢ Cincinnati's Marvin Lewis, who in three-plus seasons has turned around the NFL's worst franchise, began the season defensive about the plethora of Bengals who had been arrested.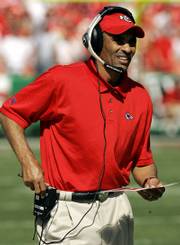 "I'm going to protect my guys, as I've said many times," he said earlier this season. "It's part of my job to protect them as long as they're mine." He finally got tough, benching oft-arrested Chris Henry against New England. The next week, the league suspended Henry for two games for substance abuse and violating NFL conduct policies.
¢ Miami's Nick Saban made a bad choice in trading for Daunte Culpepper. Even before he tore up his knee last season, Culpepper was awful in Minnesota. Now he's on the bench, replaced by Joey Harrington, who failed in Detroit after being the third overall pick in the 2002 draft. It would have been better to sign Drew Brees and keep the draft picks he gave up for Harrington and Culpepper.
¢ New York's Tom Coughlin was criticized twice in four games by players, saying the Giants were outcoached: Tiki Barber after a playoff loss last season and Jeremy Shockey after a debacle in Seattle in Week 3. To Coughlin's credit, he settled down his team during a bye week and last week the Giants played their best game of the season, shutting down Washington 19-3.
¢ Dennis Green, who made the playoffs eight of his 10 seasons in Minnesota, is so frustrated in his third season at historically underachieving Arizona that he called out his offensive line before last week's game - a loss, of course. That made Green's record in the desert 12-25 and prompted Edgerrin James, the major offseason acquisition, to whine that all that was needed was to give him the ball.
All this has led to some amusing reactions.
Green, for example, suggests the Cardinals' dismal history was to blame.
"I've won a lot of games in my career," he said a week ago. "The question is I haven't won here."
Coughlin?
Even after the Giants' win over the Redskins, he got testy over implications he might have lost a team with more than its share of inflated egos and underachievers.
"Considering all of the turmoil that came out of the locker room in Seattle, does a game like this quiet things down?" he was asked.
"You know what?" Coughlin snarled back. "There never was anything that had to be quieted down. You take one statement and run with it, which you all did, and enjoyed it, for two weeks. There wasn't any problem in the locker room, OK?"
Coughlin probably doesn't have to apologize. Like most of the above coaches, he has had multiple playoff seasons, and he coaches in a town where getting to the playoffs isn't enough. (See Steinbrenner, George; Torre, Joe; and Rodriguez, Alex).
Nor did he put together the team that includes egos such as Shockey, Michael Strahan, Plaxico Burress and LaVar Arrington, who made his first big play as a Giant against his old team. Even Barber, a solid citizen and one of the game's top running backs, sometimes doesn't hold his tongue.
Also remember that Cowher has a Super Bowl ring and Saban a college national championship.
Does any coach get off the hook?
Sure: Lovie Smith of the Bears.
When your team is 5-0 and has outscored your opponents 156-36, even nitpickers can't get you.
Copyright 2018 The Associated Press. All rights reserved. This material may not be published, broadcast, rewritten or redistributed. We strive to uphold our values for every story published.