London — Using DNA testing, scientists have discovered what is believed to be the first terrestrial mammal found in Europe in decades: a mouse with a big head, ears, eyes and teeth that lives in a mountainous area of Cyprus.
The mouse was native to the eastern Mediterranean island, survived the arrival of man on Cyprus and could be considered a "living fossil," experts said.
"New mammal species are mainly discovered in hot spots of biodiversity like Southeast Asia, and it was generally believed that every species of mammal in Europe had been identified," said Thomas Cucchi, a research fellow at Durham University in northeast England.
"This is why the discovery of a new species of mouse on Cyprus was so unexpected and exciting," he said in an interview Thursday.
The mouse mainly lives in the Troodos Mountain in the west of the island, Cucchi said, favoring vineyards, grassy fields and bushes.
Genetic tests confirmed the mouse was a new species and it was named Mus cypriacus, or the Cypriot mouse. The findings appeared in Zootaxa, an international journal for animal taxonomists.
The biodiversity of Europe has been reviewed extensively since Victorian times, and new mammal species rarely are found on the continent.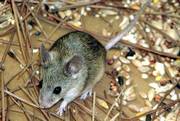 Cucchi said a bat discovered in 2001 in Hungary and Greece was the last new living mammal found in Europe. No new terrestrial mammal has been found on the continent for decades, he said.
Recent discoveries elsewhere have included a new tree rat in Brazil, a new primate in Tanzania and another new mouse in the Philippines.
In Cyprus, Cucchi and other collaborating scientists compared the new mouse's teeth with those of mouse fossils. The comparison showed the new mouse had colonized and adapted to the Cypriot environment several thousand years before the arrival of man, Durham University said in a statement.
Copyright 2018 The Associated Press. All rights reserved. This material may not be published, broadcast, rewritten or redistributed. We strive to uphold our values for every story published.