Who are those women?
With seven freshmen on Kansas University's basketball roster, program sales should be brisk during the winter because, as they say, you can't tell the players without a you-know-what.
All seven new faces figure to be contributors, too, because third-year coach Bonnie Henrickson doesn't want to red-shirt any of them.
"I don't have any plans to do that," Henrickson stressed during Thursday's Media Day. "I really believe we have a group that can play and contribute."
NCAA rules will not allow Henrickson to use all seven on the floor at the same time, of course, but many of the newcomers loom as probable starters.
"Not five," Henrickson said. "We could go with three and we might go four. But five isn't realistic."
Danielle McCray, a 5-foot-11 Olathe East product, is the centerpiece of the large freshman class, but McCray has been slowed by shin woes.
"She's impressive," Henrickson said of McCray, "but she's been hurt."
In fact, the most impressive frosh to date has been LaChelda Jacobs, a 5-10 native of Mansfield, Texas, who had originally committed to TCU before eventually choosing KU.
"She gets to the rim and makes plays," Henrickson said of Jacobs, "and she runs with Shaq and Sharita."
Shaquina Mosley and Sharita Smith are the fastest returning players on the KU roster. They are also the only seniors. Henrickson has just two juniors - Taylor McIntosh and Jamie Boyd - meaning only four of the 14-player roster is composed of upperclassmen.
Photo Gallery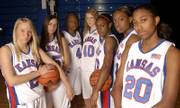 KU women's basketball media day
Moreover, the leading returning scorer is sophomore point guard Ivana Catic, who averaged just 7.7 points a game. Henrickson lost practically all of her firepower when Crystal Kemp, Erica Hallman and Kaylee Brown completed their eligibility last season.
Another freshman who has caught Henrickson's eye is Kelly Kohn, a 5-9 guard from Adrian, Mich., who appears to have natural point-guard instincts. Another backcourt performer who could supply scoring punch is 5-10 Lindsay Ballweg of Overland Park Aquinas.
Yet Henrickson concedes the Jayhawks aren't likely to replace the solid three-point shooting of Hallman and Brown.
"Our three-point field goals won't be what they were," Henrickson said, "but I think we'll score more points going to the basket, shoot more free throws and get more rebounds inside."
McCray should help in the latter category, and so should three more newcomers - 6-1 Porscha Weddington, 5-11 Sade Morris and 6-2 Rebecca Feickert.
Most of all, the depth and athleticism of this unusually large freshman class can't help but make Kansas a solid defensive team, and defense was not a strong suit during last year's 17-13 season.
"We couldn't guard anybody last year," Henrickson said.
Now Henrickson believes the Jayhawks will be able to guard and, at the same time, turn their defense into an effective offense by running fast breaks.
"If we can run and score and get gassed, then go to the bench and not have much dropoff, that will really help," Henrickson said, "and right now it looks like we will be able to."
Nevertheless, when half the roster is composed of freshmen, inexperience can't be downplayed, even at a tradition-rich program like Texas where veteran coach Jody Conradt brought in seven freshmen last year with mixed results.
Although injuries were also a factor, the Longhorns went from a national power to a second-division Big 12 team in one season.
"I asked Jody for advice about having seven freshmen," Henrickson said, "and she told me to call three and tell them not to come. I won't do that."
Copyright 2018 The Lawrence Journal-World. All rights reserved. This material may not be published, broadcast, rewritten or redistributed. We strive to uphold our values for every story published.