New York — Sharp and deceptive as ever, Tom Glavine took charge again, putting the pitching-depleted Mets on his 40-year-old back and giving New York the lead in the NL championship series.
Carlos Beltran rocked Shea Stadium with a homer that crashed off the scoreboard to back another gem by Glavine, and the Mets beat the St. Louis Cardinals, 2-0, in Game 1 on Thursday night.
"Tommy was the key," New York manager Willie Randolph said. "He's quiet, goes about his business and is one of the leaders on our staff."
Making his 34th postseason start, Glavine shut down Albert Pujols and extended his scoreless streak to 13 innings in this postseason.
Beltran, who wore out St. Louis in the NLCS with Houston two years ago, hit a two-run shot off an otherwise impressive Jeff Weaver in the sixth. That was all the offense New York needed to win its eighth straight game, dating to the regular season.
"It pains me," Cardinals manager Tony La Russa said. "No way to suggest that he's a losing pitcher. ... Jeff was outstanding. So was Glavine. We hit too many balls in the air. I mean, it's tough to win when you do that."
After rain postponed the opener Wednesday night, the Cardinals bumped up ace Chris Carpenter, who will pitch on regular rest tonight in Game 2. Rookie right-hander John Maine will be on the mound for the Mets.
Missing injured starters Pedro Martinez and Orlando Hernandez, the Mets are counting heavily on Glavine as they chase their first World Series title in 20 years. The cagey left-hander has delivered in a big way.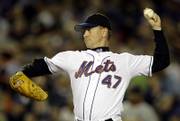 He threw six scoreless innings in Game 2 of the first round, helping the Mets to a three-game sweep of the Los Angeles Dodgers. And the two-time Cy Young Award winner, who waited four seasons to reach the playoffs with New York after doing so year after year in Atlanta, was just as good against St. Louis.
"I understand the importance of when I pitch now. But at the same time, I'm trying my best to mentally play games with myself and dismiss that," Glavine said. "I don't want to go out there with any added pressure on myself."
Helped by two inning-ending double plays and a sprawling catch by super sub Endy Chavez, Glavine yielded only four hits and two walks. He struck out Pujols in the first, walked him in the fourth and retired him on a liner to shortstop in the sixth.
"The first part I executed real well, which is facing him with nobody on base," Glavine said. "He's the best hitter in baseball right now. ... But when he's in the box and you have to face him, you have to face him like you do every other hitter. You have to be aggressive and attack him."
Guillermo Mota worked a hitless eighth to avoid facing Pujols himself, instead passing the reigning NL MVP along to Billy Wagner. But the Mets' closer got Pujols to line out to first, and Juan Encarnacion followed with a hard groundout.
Wagner then walked Scott Rolen, who is 1-for-14 this postseason, and retired pinch-hitter Scott Spiezio on a popup to end it for his third save of the playoffs.
Glavine matched Andy Pettitte for the most postseason starts in major league history. Glavine also improved to 14-15 in the postseason, tying Pettitte for the second-most wins behind former Braves teammate John Smoltz (15).
"He made a lot of hitters tonight look foolish, kept them off balance," Mets star David Wright said.
Weaver, cast off by the Los Angeles Angels in July, was nearly as good. He cruised through 52â3 innings, blanking the Mets' menacing lineup on one harmless single.
But Paul Lo Duca bounced a hit through the left side in the sixth, and Beltran drove a 2-2 fastball an estimated 430 feet off the giant scoreboard in right-center - the ball clanging off Jose Valentin's No. 18 in New York's lineup.
"Every time you do something in October it means a lot," Beltran said. "Hitting the home run today, of course brings memories."
The Cardinals have seen all too much of Beltran in October. He batted .417 with four homers and five RBIs for the Astros in the 2004 NLCS, a series St. Louis won in seven games.
Beltran also hit a game-ending homer against the Cardinals in August.
Copyright 2017 The Associated Press. All rights reserved. This material may not be published, broadcast, rewritten or redistributed. We strive to uphold our values for every story published.