It was evident the Free State soccer team had a tough test in front of it against Olathe East on Thursday 10 minutes before the game even started.
Olathe East, ranked the No. 1 team in Kansas, held what looked like a mini-scrimmage before the game started. Players wore red and yellow jerseys and ran around at full speed to prepare for the game.
Talk about a warmup.
Free State (5-7-1) was within one goal of Olathe East (13-1) for 79 minutes on Thursday, but eventually fell, 2-0, on its home field.
Free State coach Jason Pendleton said he didn't record moral victories.
"We're looking to beat teams and try to move to the next level so that we can be playing our best soccer at the end of the year when we get into the playoffs," Pendleton said. "We're a team that advanced to the regionals last year and won 13 games. We're not in this for moral victories."
Olathe East coach Terry Hair proved his team had depth by playing virtually everyone on the varsity roster. When they substituted, the Hawks usually replaced at least four players.
The Hawks didn't score their second goal until under a minute to go in the game, when Ryan Whiles clanked a shot off the right crossbar and into the net. Olathe East's Kyle Boehm scored the first goal of the game with 10:30 left in the first half.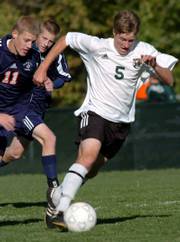 "I thought our defense played really well until we got under a minute and gave up a goal that we shouldn't have," Pendleton said. "It's just a matter of executing consistently when it matters most, and that's a little bit frustrating."
Junior Jordan Williams was responsible for the majority of the solid Free State defense. Williams frequently broke up Olathe East passes close to the goal. He said the offense needed to pick up the slack.
"Obviously, we just held one of the best teams in the state to a close game, but we have a problem: we can't finish the ball, and when you can't finish the ball, you can't win games," Williams said. "I think it will all come together."
Much of the reason for Free State's lack of offensive production came from Olathe East holding junior forward Alex Clayton in check. Typically, Clayton uses his speed to spring free from defenders and create open shots. The Hawks held the Firebirds to only five shots on goal in the second half - none in the first half. Olathe East had 13 shots on goal in the game.
"They're an athletic defense," Clayton said. "Some defenses, Erik (Slan) and I could just beat them with our speed and run around them, but it was really difficult to do that."
Pendleton said the team knew where it was supposed to be on the field 99 percent of the time.
"Now I need to put them in a better position to be successful at the right moments," Pendleton said. "We have to find more ways to provide opportunities in practice where they can have success so they can then emulate that in the games."
Copyright 2018 The Lawrence Journal-World. All rights reserved. This material may not be published, broadcast, rewritten or redistributed. We strive to uphold our values for every story published.