Nickel Mines, Pa. — Ten days after the Amish schoolhouse shootings, a demolition crew using heavy equipment tore down the bloodstained building Thursday and obliterated nearly all traces of the place where five girls were killed.
Only a bare patch of earth was left behind, and it was planted with grass seed, so that eventually even the footprint of the one-room schoolhouse will be gone, too.
Any kind of plaque or memorial is unlikely. Members of the plain-living Amish community said it would be too showy and attract too many visitors.
"They do not want to make it a tourist attraction," said the 27-year-old brother of two of the 15 boys sent out of the schoolhouse by the gunman before the shooting.
"It's definitely a little heart-wrenching to see it go down, but it sort of finishes things off," said the Amish man, who like most members of the community did not want to be identified in any news accounts.
The Amish are known for constructing buildings by hand, without the aid of modern technology, but for this job they arranged for private contractors with heavy equipment to end a painful chapter for their community.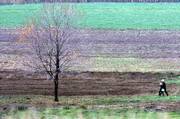 The schoolhouse, built in 1976, had been boarded up since the killings, with classes moved to a nearby farm.
Rebecca Miller, the grandmother of two girls who were killed, told WGAL-TV in Lancaster on Thursday that classes resumed Monday and that parents have accompanied their children to help ease any fears.
The destruction of the West Nickel Mines Amish School came a week after the funerals of the five girls killed by gunman Charles Carl Roberts IV. Roberts wounded five other girls and killed himself as police closed in.
New details emerged Thursday in the investigation. State police Trooper Blain Hertzog confirmed reports that after 13-year-old Marian Fisher asked Roberts to shoot her first and let the others go free, Roberts told the girls: "I'm going to make you pay for my daughter."
Copyright 2018 The Associated Press. All rights reserved. This material may not be published, broadcast, rewritten or redistributed. We strive to uphold our values for every story published.