Kabul, Afghanistan — Sixteen Afghans and one Iranian released from years in captivity at the U.S. prison in Guantanamo Bay, Cuba, arrived Thursday in Afghanistan, an Afghan official said.
The 16 Afghans appeared at a news conference alongside Sibghatullah Mujaddedi, head of Afghanistan's reconciliation commission, which assists with the release of detainees from Guantanamo and the U.S. prison at the Bagram military base north of Kabul.
Mujaddedi said many of the detainees, who are now free, had served up to four years in Guantanamo. He said "most" of the prisoners were innocent and had been turned in to the U.S. military by other Afghans because of personal disputes.
The released Iranian prisoner, who also arrived Thursday in Afghanistan, was handed over to the International Committee of the Red Cross, he said.
A U.S. military spokesman in Kabul confirmed that 16 Afghans had been released from Guantanamo to the Afghan government. Lt. Marcelo Calero said he had no information about the Iranian prisoner.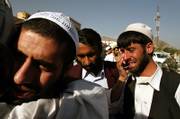 One of the released prisoners, Sayed Mohammead Ali Shah, said he had been a delegate at the country's first loya jirga, a council of leaders that helped establish the interim government in 2002 after the U.S.-led invasion to oust the Taliban in 2001.
"For four years they put me in jail in Cuba for nothing," said Shah, a doctor from the eastern province of Paktia whose hands shook from nervousness when he spoke.
"All these people (the other prisoners) and all those Afghans still in Cuba, they are innocent," he said. "All were arrested because of false reports, and the Americans, without investigating, they arrested innocent people and put them in jail for a long time."
Sayed Sharif Yousufy, a spokesman for the Afghan reconciliation commission, last month said between 90 and 110 Afghans remained at Guantanamo, meaning that between about 74 and 94 still would be there.
Copyright 2018 The Associated Press. All rights reserved. This material may not be published, broadcast, rewritten or redistributed. We strive to uphold our values for every story published.