Alexis Gomez impressed his teammates time and again by routinely hitting long home runs. In batting practice, that is.
Still, Jim Leyland trusted his gut and went with the little-used Gomez as Detroit's designated hitter for Game 2 of the American League championship series - yet another spot-on call by the Tigers manager this postseason.
The result: a 2-0 advantage heading home to Motown.
Gomez hit a go-ahead, two-run single and later added a two-run homer to lead the Tigers to an 8-5 victory over the Oakland Athletics on Wednesday, a somber night following the death of former A's pitcher Cory Lidle in a plane crash.
A career minor-leaguer, Gomez had just one home run in the majors and contributed only six RBIs in 103 at-bats this season.
"He does have big-time power," Leyland said. "Unfortunately, he showed most of it in batting practice."
Milton Bradley homered twice for the A's and beat out an infield hit with two outs in the ninth inning that loaded the bases. But closer Todd Jones retired Frank Thomas on a harmless fly for his second save in these playoffs.
"What a challenge," Jones said. "It was a lot of fun. We're up 2-0, and we're going back to Detroit."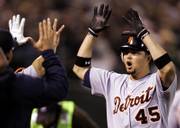 Game 3 in the best-of-seven series is Friday at Detroit's Comerica Park, featuring Rich Harden for Oakland against former A's pitcher Kenny Rogers.
Harden, who returned to make three late-season starts after missing more than three months due to an elbow injury, did not pitch during the division series sweep of the Minnesota Twins. Rogers pitched shutout ball against the New York Yankees in Game 3.
Leyland, who turned around the Tigers in his first season as their manager, benched righty Marcus Thames and his 26 regular-season home runs in favor of Gomez, who hadn't been on the field in nearly two weeks and spent much of the year at Triple-A Toledo.
"We just took a shot that maybe, by chance, a lefty may have a shot," Leyland said beforehand.
Leyland already had to reshuffle his lineup to replace Sean Casey after the first baseman injured his calf in Tuesday's opener. The moves paid off, and the Tigers won their fifth straight postseason game.
Leyland gave Detroit general manager Dave Dombrowski a courtesy heads-up about the switch at DH.
"I won't question who he plays," Dombrowski said. "I never have. That's his responsibility. He does it well."
Jones echoed that.
"When Jim puts out the lineup, it's the right nine. He's the only one who has to know the decision," the reliever said. "If I walk in there on Friday and see my name as the cleanup hitter, I'd expect to get a hit."
A moment of silence was held before the national anthem for Lidle, who most recently pitched for the Yankees on Saturday in Detroit and spent the 2001 and '02 seasons in Oakland. His picture was shown on the main scoreboard.
The switch-hitting Bradley homered from both sides of the plate, drove in four runs and managed not to spill coffee on starter Esteban Loaiza this time.
Eric Chavez also homered for the A's, who didn't know until arriving at the ballpark that Lidle had been in the small plane. Lidle's old Oakland jersey hung near the dugout.
Hard-throwing Tigers rookie Justin Verlander struck out six. He got plenty of support from the bats - and Jones.
"He made it a little bit exciting, but he got it done," Verlander said.
Perhaps more fun for Verlander was watching Gomez's offensive show. Gomez was designated for assignment by Detroit twice this season.
This was the biggest performance yet for the 28-year-old Dominican, who did hit four home runs on Aug. 7 against the Columbus Clippers to tie an International League record and had a 12-game hitting streak in Triple-A.
Copyright 2018 The Associated Press. All rights reserved. This material may not be published, broadcast, rewritten or redistributed. We strive to uphold our values for every story published.