New York — The New York Mets might have to face Chris Carpenter sooner than expected.
Game 1 of the NL championship series between New York and St. Louis was postponed Wednesday night because of a steady rain, giving the Cardinals a chance to pitch their ace on full rest in Game 2.
The best-of-seven series now will begin tonight, and Game 2 at Shea Stadium is to be played Friday - which was supposed to be an off day in the series.
Carpenter had been slated to start Game 3 on Saturday, when the series shifts to St. Louis. But the 2005 NL Cy Young Award winner would be working on his regular four days of rest if the Cardinals decide to bump him up to Friday.
"That is his fifth day. You've got to seriously think about what that means. It's up for grabs in my opinion," St. Louis manager Tony La Russa said. "My first 30-45 minutes of looking at it, I said I'd probably stay with it. Sitting here for 15, there's more there. There's a decision to make, no doubt about it."
The Mets will stay with Tom Glavine in the opener, and the 40-year-old left-hander said he expected to come back and pitch on only three days' rest in a potential Game 5.
"I've done it before. I know what to expect, how to prepare from tomorrow's start to my next start knowing it's going to be on short rest. But you still have to go out there and do it," Glavine said. "The most important game for me is tomorrow, and trying to win that game for us - then worry about starts I may have after that."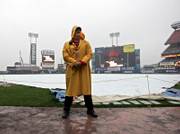 Jeff Weaver was to get the ball for St. Louis in Game 1, as originally planned.
Rookie right-hander John Maine is slated to pitch Game 2 for New York. Jeff Suppan had been penciled in for the Cardinals, but he could be pushed back.
"I don't know what's going to happen. They didn't really say anything yet," Suppan said before the postponement. "But as far as my preparation, it would be the same as if it wasn't getting rained out."
Minutes before the game was called, La Russa said a rainout probably wouldn't alter his rotation at all, explaining that he didn't think there was any benefit in switching pitchers, and he thought Carpenter was a better choice for Game 3 - and a possible Game 7.
But after the postponement, La Russa sounded as though he might change his mind.
"There have been times an important decision was made because of coincidence, and the coincidence is we got rained out, and it's Chris' fifth day," La Russa said. "So that's why you can't dismiss it lightly."
Carpenter went 2-0 with a 2.03 earned-run average against San Diego in the first round of the playoffs, a series the Cardinals won in four games after stumbling late in the regular season and nearly squandering their big NL Central lead.
Now, the Mets and Cardinals will play five straight days.
"That's really the importance of not playing today, is that you play five in a row," La Russa said. "Actually, it's a better test because that's kind of what you do throughout the season."
Tickets for Game 1 will be honored Friday for the second game at Shea Stadium. The starting time for that one was to be determined and announced today.
Jimmie Lee Solomon, executive vice president of baseball operations in the commissioner's office, said the decision to postpone Game 1 was based entirely on the weather. He said it had nothing to do with the death of New York Yankees pitcher Cory Lidle, who was aboard his small plane when it crashed into a New York City apartment building earlier in the day.
Several members of both teams played on clubs with Lidle or coached him in the past, and the accident was on everybody's mind all evening at Shea Stadium.
Copyright 2018 The Associated Press. All rights reserved. This material may not be published, broadcast, rewritten or redistributed. We strive to uphold our values for every story published.