The news of Yankees pitcher Cory Lidle's death in a New York plane crash Wednesday cast a pall over the American and National League championship series.
Lidle also played for the New York Mets and Oakland Athletics during a nine-year big-league career and was remembered in a moment of silence before Wednesday's game at Oakland's McAfee Coliseum.
A fan added to the tribute, hanging a white A's jersey with Lidle's name and number from a railing above the tunnel leading from the Oakland clubhouse to the dugout.
"All of baseball is shocked and terribly saddened by the sudden and tragic passing of Cory Lidle," commissioner Bud Selig said in a statement. "He leaves a young wife, Melanie, and a young son, Christopher. Our hearts go out to them on this terrible day."
In a statement of his own, Yankees owner George Steinbrenner called it "a terrible and shocking tragedy that has stunned the entire Yankees organization."
Lidle, who spent $187,000 on a four-seat Cirrus SR20 after qualifying for a pilot's license last winter, is the second high-profile Yankee to die in a small-plane crash. In 1979 team captain Thurman Munson died when the aircraft he was piloting crashed while trying to land in Canton, Ohio.
"It's just sadder than sad," said Mets pitching coach Rick Peterson, who worked with Lidle during the pitcher's two seasons in Oakland. "There's no words to describe a loss of somebody that you spent some very special times with. It's horrific."
It's unclear whether Lidle, 34, was at the controls of the single-engine plane when it crashed into the 30th and 31st floors of the Belaire, a 50-story red brick condominium tower on Manhattan's Upper East Side about five miles from where the World Trade Center stood.
Peterson said Mets third base coach Manny Acta lived in the building Lidle's plane struck. And when news of the accident was first reported, the team turned off ESPN and turned the clubhouse TVs to news of the accident.
"I don't want to diminish how proud we are to get to the second round of the playoffs and what it means to all of us and what it means to the city," Peterson said, "but you certainly take a step back right now and realize how unimportant it truly is."
A's manager Ken Macha was the A's bench coach when Lidle was there and said his best memory of the pitcher was a humorous one. Before a game against Baltimore, Macha said Peterson ordered Lidle not to throw a changeup to Jay Gibbons.
"So Gibbons came up, there were two men on base, and he threw him a changeup and he hit a three-run homer," Macha remembered. "I was keeping my chart where these balls were hit, so I had the spot marked. I could see the seat where it went.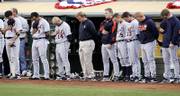 "Next at-bat Gibbons comes up, and there's two men on again. Lidle threw him another changeup and he hit another homer. I swear to God it went in the same seat."
Barry Zito and Eric Chavez were among Lidle's teammates in Oakland in 2002, his last season with the A's. Chavez said he watched reports of the crash before coming to the ballpark Wednesday, and it was only then he learned Lidle was on the plane.
"It's weird when you come to the field and find out you know the person who was involved," he said. "At first I started kind of hoping he just owned the plane and that he wasn't in it, then we found out he was in it. It's disturbing."
It was difficult Wednesday to find anyone in baseball who hadn't crossed paths with Lidle at some point.
"I think everybody in baseball is affected in some way, regardless if you played with him or not," Mets outfielder Cliff Floyd said. "It's a tragedy, an accident, and our prayers go out to his family of course. You come to the park and you feel bad health-wise, and you turn on the TV and see this type of tragic accident. It's mind-boggling some of the things that happen."
Even Marlins catcher Matt Treanor, who was unaware of the accident until contacted at home by a reporter, had a Lidle story.
"This is upsetting," he said. "I got my first hit off Cory Lidle."
Copyright 2018 The Lawrence Journal-World. All rights reserved. This material may not be published, broadcast, rewritten or redistributed. We strive to uphold our values for every story published.