Tempe, Ariz. — Matt Leinart was a portrait of poise in his impressive first start as an NFL quarterback. The next test will be considerably tougher, against the brutal Bears in prime time Monday night.
This rookie, though, relishes the bright lights.
"Yeah, it's pretty cool," he said after the Arizona Cardinals practiced Wednesday. "It's my second career start and a Monday night game against the Bears. It doesn't get any better than that."
Time will tell if he feels the same way after facing the fierce defensive front of unbeaten Chicago.
"Oh man, their defensive line is so good," Leinart said. "Their ends disrupt the passing game so much that it takes a lot of pressure off their secondary, and their secondary's very good."
Leinart won praise from teammates and coaches for his demeanor and performance in his first NFL start, a 23-20 home loss to Kansas City last Sunday.
"Just like a guy who's been here for years and years," guard Reggie Wells said, "very calm. He came to play ball, and there was no hesitation. "
Rookie guard Deuce Lutui, Leinart's teammate at USC, expected as much.
"A lot of people were surprised," Lutui said, "but it was just the same thing I've been seeing throughout college."
Leinart said playing for three national championships and winning two of them at USC prepared him to make the quick transition to the NFL.
"I've been in the highest stage in college you can be on three years in a row," he said. "I've pretty much dealt with a lot of pressure. Baseball, whatever sport I was playing, I always dealt with pressure situations. To me, I don't consider it pressure out there. As a leader of this football team, I just want to go out and lead this team to wins. That's all I care about."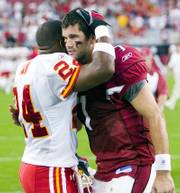 Leinart completed his first six passes Sunday, two for touchdowns, and wound up 22-for-35 for 253 yards and was intercepted once.
"I made a few mistakes," he said, "not so much the interception. Obviously you've got to check the ball down, but the sack I took on second down was a big play that put us in third-and-long, that was something that was stupid on my part. There were a few other plays I missed, but other than that, I thought we did pretty well as an offense."
To help Leinart, Arizona simplified the offense and made sure the team broke the huddle with 18 or so seconds to get the play off.
"It was so much easier," he said. "You have a chance to audible. You have a chance to see what the defense is doing. You can control the cadence. It makes the game so much easier. That's why we got away from all the shifts and motion and stuff like that. It's simpler on all of us, the coaches and players, and it enables us to get in better plays. If we can't execute, we can't execute, but at least we'll have the right play."
Leinart knows any chances his 1-4 team has for an upset of Chicago hinge on avoiding turnovers and costly losses of yardage.
"Their guys up front disrupt you so much that it forces turnovers, sacks, fumbles, all kinds of stuff," he said. "We've got to study them and understand. For my part, I've got to get the ball out quick no matter what."
Copyright 2018 The Associated Press. All rights reserved. This material may not be published, broadcast, rewritten or redistributed. We strive to uphold our values for every story published.