With both state Big 12 Conference rivals mired in losing steaks, something had to give Wednesday night at Horejsi Center.
Kansas University's five-match skid gave way after the Jayhawks defeated Kansas State, 3-1.
"It was a must win tonight," KU coach Ray Bechard said. "It just couldn't come at a better time."
After the first game, it looked as if the Jayhawks (9-9 overall, 2-7 Big 12) would continue their doldrums while the Wildcats would snap their eight-match losing streak and win their first Big 12 match.
KU faced a 10-4 deficit in that first game before whittling the deficit to 22-21 with Kansas State eventually winning, 30-26.
"We didn't think we were sharp at all," Bechard said. "It was kind of two boxers feeling themselves out a little bit in that first game. We didn't counterpunch very well. We started picking it up in the second and third game."
Bechard, who said Angie Lastra gave the Wildcats a boost at the start, gathered his team after that first game and asked a question.
"Hey, I think that's the level they're going to play it," Bechard said. "Can we play better?"
Kansas did, winning the final three games, 30-28, 30-28 and 30-20.
The second game was a back-and-forth affair, featuring 15 ties. After the resounding game-four victory, the Jayhawks rejoiced in a group hug.
Photo Gallery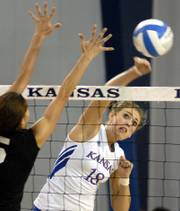 KU volleyball vs. K-State
"We just gutted out games two and three," Bechard said, "and then got into a little bit of rhythm in game four."
Freshman Brittany Williams kept the Jayhawks competitive in the first game, posting seven kills. She finished with a career high of 19.
"Brittany probably had the best match since she's been here," Bechard said. "She really came through."
Bolstered by Williams' performance, the KU seniors defeated their rival for the first time at home. It was Kansas' first victory over K-State in Lawrence since 1994.
"I have several friends on that team, but at game time it doesn't matter," Emily Brown said. "Growing up here, you're born with that hatred for K-State."
Perhaps fueled by that hatred, Brown, a preseason All-Big 12 player, had another strong game, posting 17 kills and 16 digs.
She did it all Wednesday - literally.
In the first game, she crashed into the media table while chasing a ball. (She then checked on the welfare of the ball girl).
In the fourth game, she mopped up a wet spot on the floor.
Her teammates helped KU mop up Kansas State (8-10, 0-8). Sophomore Savannah Noyes and senior Jana Correa recorded 16 and 17 kills, respectively.
In the Jayhawks' last game, Correa became the ninth player in school history to record 1,000 kills for her career. Correa had 23 digs Wednesday night, and the team registered 88.
But Williams was the star. The freshman sensation credited her teammates and the excitement of the rivalry for her best performance to date. She aims to use this game as a building block.
"I don't want to be that girl who only peaked in a game against K-State," she said.
Williams was not the only one excited by the match.
Despite the fact KU's fall break starts today, a capacity crowd of 1,300 filled the Horesji Family Athletic Center. But at least two rows sported purple and white.
"It was great. Obviously, we'd like to see it full of crimson and blue," Bechard said. "We gave them something to cheer about tonight."
KU will play host Saturday to Baylor.
Copyright 2018 The Lawrence Journal-World. All rights reserved. This material may not be published, broadcast, rewritten or redistributed. We strive to uphold our values for every story published.