The curator of Kansas University's Booth Family Hall of Athletics knows quite a bit about Jayhawk sports history.
Not just because it's her job.
As long as Candace Dunback can remember, she's been interested in the lives and accomplishments of some of KU's greats.
"For me, Billy Mills and Jim Ryun are the reason I ended up coming to KU. I was raised on their story," said Dunback, a former Jayhawk heptathlon/pentathlon/pole vault great who was tapped the Hall's first director a month ago.
"I started running track at 8 years old nationally, and I heard both of them speak at various events, and they kind of got me motivated living just across the border in Missouri," added Dunback, a five-time All-American and five-time conference champ who grew up in Nevada, Mo.
"I got a lot of flak for hopping that border, by the way," the 1999 KU grad added with a smile.
Dunback - she was known as Candace Mason during her KU days - said she would be greatly honored to be on the same stage with Mills and Ryun as speakers at "An Evening with KU Track Legends and Friends," a fundraiser for the Bert Nash Center on Nov. 1 at the Holidome.
Also on hand will be Bill Nieder and Wes Santee, as well as former KU coach Bob Timmons and other former athletes and coaches.
"Jim Ryun came to an indoor meet here (at KU) when I was probably 13 or 14," Dunback recalled. "I met him, and he signed an autograph. I read his book. I met his twin sons. We (Dunback and Ryun's sons) shared a birthday and talked from there," Dunback related. "He made an impression on me, coming from a small town."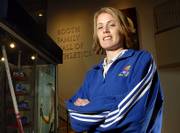 She heard Mills speak in 1987 at AAU nationals in Utah.
"I was absolutely in awe," Dunback said. "I was one of thousands of kids there. His stories ... the way he speaks, his passion inspired me."
Another inspiration is Timmons, who, like Dunback, lives in Lawrence.
"Coach Timmons is like my adopted grandpa. He tends to say the same thing about me, that I'm his adopted granddaughter," Dunback said. "He is the ideal grandpa, tells the best stories ever. He is a genuine person."
KU officials say Dunback is the ideal person to serve as the Hall's first curator.
"Candace was a great student-athlete here. She knows the history of Kansas and is passionate about the history of Kansas, and she has dived into her new responsibility with a lot of enthusiasm," KU associate athletic director Jim Marchiony said of Dunback, who worked the past couple years in KU media relations.
"She plans to make the Hall of Athletics even more visible through the number of tours going through there and putting out a brochure to go to our alums."
Dunback said in addition to increasing Hall traffic, a goal is to acquire memorabilia.
"We're hoping to build up the history part of it, the story of sports. The more artifacts we get donated, the better it'll be," Dunback said. "It depends on alumni and what we can find.
"We need to beef up some of the cases around wartime. I'd like to have some more things from the '40s. Not a whole lot was happening around campus and in society because everybody was gone. We want to be able to portray that in our cases, what was going on in society."
Dunback says KU hoped to make the Hall a must-see for tourists in Lawrence.
"The administration is committed to it," she said. "This is for our fans and our former athletes."
As a former athlete, she is full of enthusiasm each day about her job.
"This is like home to me," she said. "This is what I know. I think that because I was an athlete here and because they paid for my education ... that means a lot to me. I think it should to others (athletes), in my opinion. I feel I need to give back because they gave me so much. They gave me a home here and made me feel it was just that."
For sponsorship and ticket information on "An Evening With KU Track Legends and Friends, call Scott McMichael at 785-830-1701.
Copyright 2018 The Lawrence Journal-World. All rights reserved. This material may not be published, broadcast, rewritten or redistributed. We strive to uphold our values for every story published.