Fort Myers, Fla. — Sitting in the living room of his 14th-floor condominium overlooking scenic Estero Bay, Al Oerter is talking about the virtues of hard work, perseverance and commitment.
The affable four-time Olympian and former Kansas University track and field star is surrounded by colorful art, much of which he created by smashing a discus into puddles of paint on canvas. He approaches his hobby with the same fervor that made him one of track and field's biggest names of the '50s and '60s.
"There are a thousand little things involved in painting," said Oerter, one of only two track stars to win a gold medal in the same event in four consecutive Olympic Games - ruling the discus throw in 1956, 1960, 1964 and 1968.
"To me it's wonder. I wonder what this would look like. ... Sometimes I'll get up in the middle of the night because something's bothering me about what I did that day, and I'll take a razor and destroy the picture. Then I can sleep."
Oerter was much the same when he was competing, eschewing coaching and conventional training methods to mold himself into a fierce competitor who performed his best when the stakes were highest.
Carl Lewis joined him as the only other track star to win the same event in four straight Olympics when he claimed the long jump in 1984, 1988, 1992 and 1996. Oerter, however, is the only athlete to set an Olympic record in each of his victories.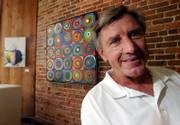 The 70-year-old, who came out of retirement to try to make the 1980 Olympic team, will be honored Wednesday by the New York Athletic Club on the 50th anniversary of his first gold-medal victory in Melbourne.
"I can remember those games truly as if they were a week ago," said Oerter, who threw 184 feet, 11 inches on his first toss and watched in amazement when nobody else, including teammate and world-record holder Fortune Gordien, came close to beating him.
He came from behind to win again in Rome, and overcame torn rib cartilage and other injuries to make it three in a row at the Tokyo Games in 1964.
At 32, he was a longshot in the 1968 field headed by world-record holder Jay Silvester. However, Oerter responded with a personal-best 212 feet, 11 inches to leave Mexico City with the gold.
"After winning in Melbourne, I remember saying: 'This felt so good, I want to win four more, five total.' And your mind is saying, 'What? That's 16 more years,"' Oerter said, laughing at the thought.
"I was caught up in the moment, but I absolutely believed it. That competition was so easy. As new as I was, as good as the other competitors were, there was something different about the games."
Oerter, who has battled serious heart trouble in recent years, still works out an hour a day, six days a week. He was 43 when he tried out for the Olympic team that didn't travel to Moscow in 1980 because of the boycott ordered by President Carter, finishing fourth to earn a spot as an alternate.
Initially outraged that the Americans would not be participating, Oerter later reversed his position.
"I obeyed my conscience and started speaking out in favor of the boycott. And quite frankly, if Carter had relented and I made that team and was not the alternate, I would not have gone," he said. "To me, it's what you think about yourself."
Which brings Oerter to the whole issue of performance-enhancing drugs and the black eye they are giving sports today.
He said he's saddened that athletes, trainers and even parents are so driven to succeed that they are willing to resort to cheating to achieve their objective. He also points a finger at high-tech laboratories that research and perfect ways for athletes to beat drug tests.
"These laboratories, as far as I'm concerned, are using the athletes as guinea pigs to see what works and what doesn't work. Some of them get caught, some of them don't. But I've never understood that," Oerter said.
"What sense do you have of yourself, if you think about such things, when you're cheating. It can't make you feel good. Why would you do that? Why would you jeopardize your health? ... It's so sad for the athlete. How do they in all honesty talk to a group of kids and say, 'I did it the right way and I hope each one of you do it the right way.' Develop some self esteem. Not that I'm a cheater and know how to beat the system."
Oerter acknowledges the pressure on athletes to win is greater than it was while he was competing. During his Olympic run, he held down a full-time job in computers and was raising a family.
He never had an individual coach, adding that he preferred it that way, and said today's athletes have so many people around them - ranging from "well-wishers" to nutrition and strength experts - that it's difficult to develop as a person.
"Believe me, if I were competing today, I probably would have stayed in it a couple of years," Oerter said.
"I used throwing as a highly meditative kind of thing. ... Today, it's tough to instill in a kid, the joy of learning about yourself and developing self esteem without money being involved."
Oerter maintains a tie to the Olympic movement through Art of the Olympians, a program he founded to give him and other former Olympians who've taken up art to showcase their work.
Ex-athletes from throughout the world, including Bob Beamon, Liston Bochette, Jean Blaise Evequoz and Wojciech Zablocki, have joined in the endeavor.
The first show drew thousands in Fort Myers earlier this year, and another is planned at the United Nations in November.
Growing up in New York City, Oerter always had an interest in abstract art but never did anything with it until 1980 - when he was commissioned to create something in support of the U.S. Olympic team.
There was one catch: He had to use a discus.
"They said: 'All right, here's a bunch of paint and some canvas, now do something,"' he said.
Oerter, who also paints with brushes, compares the rush of producing something he likes to the thrill he got from competing in sports.
Selling the work is a bonus.
"That's what I always found fascinating about all of the abstract artists from the 30's, 40's and 50's," he said.
"They didn't make a dime when they were starting. But it was so self-fulfilling to find new ways to do things. To me, it's the same as throwing, trying to find a way throw a little bit further. ... Does anybody else like it? Who cares!"
Copyright 2018 The Associated Press. All rights reserved. This material may not be published, broadcast, rewritten or redistributed. We strive to uphold our values for every story published.