Talladega, Ala. — Brian Vickers isn't allowed to attend Hendrick Motorsports team meetings.
Now he might not even be allowed in the building.
Vickers stole his first Nextel Cup victory Sunday by nudging teammate Jimmie Johnson into race leader Dale Earnhardt Jr., then skirting by the two spinning cars on the last lap at Talladega Superspeedway.
It robbed what looked to be a victory for Earnhardt and a solid chance for Johnson to resurrect his fading Nextel Cup title hopes. And it certainly spoiled what should have been a crowning moment for Vickers, who has just six races left in his Hendrick ride before his impending defection to a Toyota team.
"I got into Jimmie, and I hate it," Vickers said. "The last thing I wanted to do was wreck either one of those guys, but what happened, happened. It wasn't intentional.
"It's definitely mixed emotions for me, being my first win, but also what happened with Jimmie because he is my friend and also a teammate, as well."
But a rift apparently has been brewing since Vickers asked out of his Hendrick contract in June and was locked out of team meetings shortly after.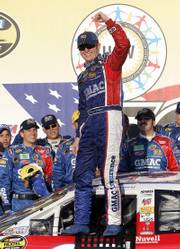 Johnson, who wasn't going to finish lower than second, wound up 24th and struggled to understand why the accident happened.
"I just can't believe it. Here we go all day long, I had a great chance to make up some points, and I end up getting wrecked by a teammate," he said. "Knowing the situation we're all in, I would hope that someone would be a little more patient than they were back there.
"I know he was trying to get his first win, but he was in a position to finish second or third the way that was, and he gave me one hell of a push from behind and pushed me into (Earnhardt), and off we went."
The dramatic ending capped what had been a curiously calm event on Talladega's sleek new asphalt. The race was incident-free until 50 laps to go, when an 11-car melee crippled Jeff Gordon's championship hopes.
A second accident set up a final restart with 10 laps to go and Earnhardt out front. Then points leader Jeff Burton suffered a flat tire and had to make a desperate pit stop while the championship board tightened up considerably.
Earnhardt seemed to side with Vickers. "Brian was just excited there," he said. "I'm not really that upset. I mean, that's just the way racing goes here, and sometimes you come out on the good end of those deals, and sometimes you don't."
Auto Racing
Schumacher hopes dashed
Suzuka, Japan - Michael Schumacher was leading the Japanese Grand Prix and had thoughts of ending his career with the Formula One points championship. Then, he saw smoke coming from his engine.
"For me the championship is over," he said. "I have to say clearly I don't really believe in the championship anymore."
Fernando Alonso won at Suzuka on Sunday and heads into the season's final race with a 10-point lead over Schumacher, who exited in the 37th lap with a blown engine. Alonso leads Schumacher 126-116 in the points standings heading into the Brazilian GP.
Golf
Ochoa wins in homeland
Morelia, Mexico - Mexican standout Lorena Ochoa won her first LPGA Tour title in her home country, closing with a 4-under 69 to hold off Julieta Granada and Paula Creamer in the Corona Morelia Championship. Ochoa, who shot 64 in the second round Friday, won for the fourth time this season. Ochoa finished five strokes better than Granada.
Love snares 2-shot victory
Greensboro, N.C. - Davis Love III won on the course he redesigned, shooting a 6-under 66 for his second victory in the Chrysler Classic of Greensboro. Love had three straight birdies late to seal his 19th PGA Tour victory. He finished 16-under. Jason Bohn (66) was two strokes back at 14 under, and Eric Axley (67) and Steve Flesch (68) were another shot back.
Harrington best in Scotland
St. Andrews, Scotland - Ireland's Padraig Harrington won the Alfred Dunhill Links Championship for the second time, closing with a 4-under 68 on the Old Course for a five-stroke victory over Bradley Dredge, Anthony Wall and Edward Loar. Wall finished with a 67, Loar shot a 70 and Dredge closed with a 74. Ernie Els (70) finished fifth at 10 under.
Jenkins wins soggy event
Cary, N.C. - Tom Jenkins won the SAS Championship for his seventh career Champions Tour title when soggy conditions forced the cancellation of the final round. The 58-year-old Jenkins had rounds of 68 and 66 for a 10-under 134 total on the Prestonwood Country Club course. He earned $300,000. Money leader Loren Roberts and tour newcomer Chip Beck tied for second, a stroke back.
Mourgue D'Algue ranks No. 1
St. Simons Island, Ga. - France's Cecilia Mourgue D'Algue earned the top spot in match play in the USGA Senior Women's Amateur, shooting a 2-under 69 on Sunday to lead the 64 qualifiers on the Sea Island Golf Club's Seaside Course. The 60-year-old Mourgue D'Algue, the runner-up in the 1999 tournament, had the lone sub-par round of the day to finish with a two-round total of 3-over 145. Nancy Smith of North Port, Fla., shot her second straight 73 to earn the second spot at 4 over.
Tennis
Olympic champ victorious
Tashkent, Uzbekistan - Olympic doubles champion Sun Tiantian of China won her first career WTA singles title Sunday, beating local wild-card Iroda Tulyaganova, 6-2, 6-4, in the final of the Tashkent Open.
Petrova claims fifth crown
Stuttgart, Germany - Nadia Petrova won her fifth title of the year Sunday at the Porsche Grand Prix, beating 18-year-old Tatiana Golovin of France, 6-3, 7-6 (4).
NBA
Nuggets pick up Alexander
Denver - The Denver Nuggets have signed guard Courtney Alexander to the training-camp roster, just before a scrimmage against Metro State. Alexander was the 13th pick in the 2000 draft.
Copyright 2018 The Lawrence Journal-World. All rights reserved. This material may not be published, broadcast, rewritten or redistributed. We strive to uphold our values for every story published.