Philadelphia — With Terrell Owens watching from the sideline, Donovan McNabb turned ordinary receivers into big-time playmakers.
As for T.O., the most overhyped homecoming in recent memory was totally ordinary: three catches, 45 yards, 0 drama.
McNabb threw touchdown passes of 40 yards to Reggie Brown and 87 yards to Hank Baskett, and Lito Sheppard returned an interception 102 yards in the final minute to seal the Eagles' 38-24 victory over the Dallas Cowboys on Sunday.
Owens' return to Philadelphia dominated the headlines this week, with Philly fans planning a hostile welcome. But Owens was merely a decoy for most of the game, and those fans were too dazzled by
McNabb to fixate much on the erstwhile Eagles receiver who helped them reach the Super Bowl in 2004 before last year's bitter departure.
"It's frustrating," Owens said. "Opportunities were there, and we didn't make them. I'm a competitor. I do not like to lose. Maybe I need to work harder."
Not only did Owens not score, he didn't catch a pass until the third quarter - then dropped the next one thrown to him, much to the delight of a frenzied crowd that showered Owens with derisive chants, insults and boos.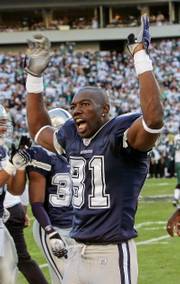 The Eagles (4-1) took the lead for good when McNabb connected with Brown on a flea-flicker pass with 9:13 left that made it 31-24. Brown, a second-year pro who replaced a suspended Owens in the starting lineup last year, beat rookie safety Patrick Watkins and caught the ball deep in the end zone.
The Cowboys (2-2) drove to the Eagles 33 on the ensuing drive. But Sheppard intercepted Drew Bledsoe's badly underthrown pass - intended for an open Owens.
Owens angrily snapped at his chin strap, walked off the field and took his usual spot at the end of the bench.
The Cowboys had one more chance after a pass interference penalty on Michael Lewis allowed them to convert a fourth-and-18 from their 37.
But from the Eagles six, Sheppard stepped in front of Bledsoe's pass and raced the other way to put the game away. Bledsoe threw three interceptions and was sacked seven times.
For a while, the Cowboys were doing just fine without getting Owens involved. DeMarcus Ware scored on a 69-yard fumble return and Bledsoe ran in from the seven to give Dallas a 21-17 halftime lead.
Philadelphia's offense turned it around with one play.
McNabb took a deep drop, eluded a sack, stepped up and heaved a pass downfield. Baskett ran past Watkins, caught the ball in stride, broke a tackle near the 30 and streaked into the end zone for his first TD.
Baskett finished with three catches for 112 yards. "This is a total team game," said McNabb, who was 18-of-33 for 354 yards and two TDs. "It's not T.O. vs. Donovan. All of us play together."
Colts 14, Titans 13
Indianapolis - Peyton Manning hit Reggie Wayne with a two-yard touchdown pass with 5:10 left.
Manning was masterful in the second half. He finished 20-of-31 for 166 yards with two touchdowns - both in the second half - and one interception. It was enough to keep the Colts unbeaten at 5-0.
Marvin Harrison caught a 13-yard TD to break Marshall Faulk's NFL record for most consecutive games (159) with a reception at the start of a career.
The Titans (0-5) have lost seven straight in the series. Travis Henry, inactive last week, finished with 19 carries for 123 yards - his first 100-yard game with the Titans.
Bears 40, Bills 7
Chicago - Rex Grossman threw two touchdown passes, Cedric Benson scored his first two NFL touchdowns, and the Bears forced five turnovers in a drubbing of Dick Jauron's Bills that launched Chicago to its first 5-0 start since 1986.
Robbie Gould kicked four field goals as the Bears ran their scoring margin through five games to 156 points scored and 36 allowed.
The NFC's only unbeaten team went over 30 points for the third time this season and had its highest point total since a 47-17 victory over Tampa Bay in 1993.
Rams 23, Packers 20
Green Bay - With Green Bay trailing St. Louis by three with 2:46 remaining, Brett Favre drove the Packers to the Rams 11 in the final minute. But Favre was sacked and fumbled, and the Rams escaped.
The Rams (4-1) made plenty of mistakes, including a rare slip-up by quarterback Marc Bulger. But the Packers (1-4) couldn't make them pay until it was too late.
Bulger threw for two first-half touchdowns and extended his league-best interception-free streak to 214 attempts - thanks in large part to Packers cornerback Al Harris.
With the Rams leading 17-13 and driving late in the third quarter, Bulger threw Harris' way at the Green Bay 14, an errant pass that hit Harris in the numbers. But instead of running 95 yards down a clear path for a go-ahead touchdown, Harris dropped the ball. Jeff Wilkins kicked a 26-yard field goal.
Giants 19, Redskins 3
East Rutherford, N.J. - Michael Strahan and the much-maligned defense limited Washington to 164 total yards, and Eli Manning threw a touchdown pass and set up three of Jay Feely's four field goals with long passes.
The victory was only the Giants' fourth in 18 post-bye-week games.
The Giants (2-2) received contributions from every phase of their team against Washington (2-3), with $49 million linebacker LaVar Arrington even making a rare big play by knocking down and almost intercepting a screen pass by Mark Brunell.
Panthers 20, Browns 12
Charlotte, N.C. - Julius Peppers had a sack, forced a fumble and hit quarterback Charlie Frye five other times, and Richard Marshall returned an interception for a touchdown for Carolina (3-2).
Al Wallace also had a sack for the Panthers, who held the Browns to 98 yards rushing in winning its third straight game.
Frye was 26-of-43 for 173 yards and two interceptions, the last by Mike Minter at the Carolina 14 with two minutes left that iced it.
Saints 24, Buccaneers 21
New Orleans - Reggie Bush brought back a critical punt return 65 yards for a touchdown with under five minutes remaining.
The runback kept the Saints (4-1) atop the NFC South, while Tampa Bay is 0-4.
Drew Brees was 21-of-33 passing for 171 yards and one touchdown, a key third-down toss to tight end Ernie Conwell from nine yards out that gave the Saints a 17-7 lead in the third quarter. Deuce McAllister had 123 yards rushing and a TD.
"I got that monkey off my back," a smiling Bush said after scoring his first pro TD.
Saints coach Sean Payton said he challenged Bush this week during a team meeting.
"I specifically said 'Reggie, you need to do a better job,' "Payton said.
Bush succeeded in pleasing his coach. "Sean Payton challenges me every day," Bush said. "In practice, (Payton told Bush to) be myself and make plays. Be a playmaker."
Bush tallied 161 all-purpose yards (23 rushing, 63 receiving, 75 return yards).
Vikings 26, Lions 17
Minneapolis - Detroit squandered a 17-3 lead in the fourth quarter, and Minnesota's defense scored two touchdowns on turnovers by Jon Kitna in the final period for a victory.
Ben Leber returned Kitna's fumble one yard for a touchdown to cut Detroit's lead to 17-16 and Ryan Longwell made a 20-yard field goal to give the Vikings (3-2) a 19-17 lead with three minutes to play.
Kitna was flushed out of the pocket and corralled by Ray Edwards before desperately throwing the ball in a receiver's direction. The pass landed right in E.J. Henderson's hands, and the linebacker raced 45 yards to seal the win.
Patriots 20, Dolphins 10
Foxborough, Mass. - Asante Samuel intercepted two passes by Joey Harrington that led to two touchdowns.
The Patriots (4-1) matched their season total with three takeaways and dealt another blow to the Dolphins (1-4), whose acquisition of Culpepper in the offseason was hailed as a major upgrade.
Culpepper missed the game with a bruised shoulder. Harrington completed 26 of 41 passes for 232 yards, but the two interceptions were too much to overcome.
Jaguars 41, Jets 0
Jacksonville, Fla.- The Jaguars scored touchdowns on four of their first five possessions, quickly rebounding from consecutive losses and routing the New York Jets.
Maurice Drew ran for two touchdowns, Fred Taylor added another and Byron Leftwich capped the fast start with a one-yard TD pass to George Wrighster. The Jets (2-3) provided plenty of help along the way. Chad Pennington threw two interceptions that Jacksonville (3-2) turned into touchdowns, Ben Graham had a punt blocked that resulted in a score and two questionable roughing-the-passer penalties made it even worse.
49ers 34, Raiders 20
San Francisco - Arnaz Battle caught two touchdown passes from Alex Smith, and the 49ers overcame Randy Moss' 100th career TD reception with a strong second half.
Frank Gore rushed for a career-high 134 yards and third-string running back Maurice Hicks scored on a 33-yard screen pass for the rebuilding 49ers (2-3), who scored 24 straight points after halftime to roll past their cross-water rivals.
With 10 minutes to play, LaMont Jordan dropped a lateral pass from Andrew Walter and then stood watching as rookie lineman Melvin Oliver returned the free ball 12 yards for the score, putting San Francisco up 31-13.
Copyright 2018 The Associated Press. All rights reserved. This material may not be published, broadcast, rewritten or redistributed. We strive to uphold our values for every story published.