A look at the big names in the NHL who have donned new jerseys this fall:
ROBERTO LUONGO to Vancouver
The Canucks figured they were a premier goalie from being a serious challenger in the West, and now they have one. Florida got frustrated in trying to sign Luongo to a long-term deal and made the blockbuster deal (for Todd Bertuzzi, Bryan Allen and Alex Auld) on the eve of the NHL Draft. For Luongo, the franchise goalie goes to a market where hockey is taken very seriously. His low-pressure life of leisure in South Florida is hereby ended.
CHRIS PRONGER to Anaheim
Not long after the Oilers finished their incredible run to the Stanley Cup Finals (the first eighth seed to make the Finals took Carolina to an improbable seven games), Pronger demanded off the oil field. The tabloids were flush with rumor and innuendo, stuff Pronger angrily has denied and fought. Still, the Oilers' loss is the Mighty Ducks' gain. Anaheim is now poised to catapult the tough West and move to the Finals.
ZDENO CHARA to Boston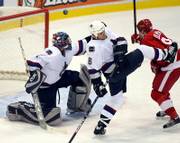 The Bruins still may be a few years away from being serious contenders, but being able to lure free agent Chara east from Ottawa is a nice start. Chara is one of the top defensive players in the game and can also chip in with some serious offense. Chara has scored 16 goals in each of the past two seasons and is prepared to help the Bruins matter in Boston once more.
BRENDAN SHANAHAN to Rangers
The Rangers are making sure last year's run to the playoffs (first trip since 1997) is no fluke. Adding a top-flight veteran leader such as Shanahan is a big step toward a repeat postseason appearance. Shanny has three Stanley Cup rings to his credit and had a near-career year with the Wings last year by tallying 40 goals - his most since getting 41 markers in 1999-2000.
ED JOVANOVSKI to Phoenix
The Coyotes are trying to make ice hockey work in the desert, and bringing a front-line defenseman like Jovanovski is one way for folks to take the game seriously. Jovanovski reportedly had been close to signing with the Panthers, but once the smoke cleared, the Coyotes generously outbid Florida.
Copyright 2018 The Lawrence Journal-World. All rights reserved. This material may not be published, broadcast, rewritten or redistributed. We strive to uphold our values for every story published.