Six straight 1-0 scores speak volumes about Kansas University soccer.
"Our defense is giving us an opportunity to win," KU coach Mark Francis said. "We've just got to give ourselves a chance on the other end of the field."
Another near lockdown defensive performance went to waste Sunday when powerhouse Texas A&M; edged KU,
1-0, in overtime at the Jayhawk Soccer Complex.
Coming in, A&M; had outscored its Big 12 foes, 17-4, on the way to a 5-0 record, yet the Jayhawks held the Aggies to a mere three shots on goal in 94 minutes.
In the second half, the Aggies managed only three shots total, none on goal, prompting Francis to describe the second 45 minutes as "the best we've played all year."
But then A&M;'s Amy Berend broke away in the fourth minute of OT and drilled a shot from the top of the box into the left corner of the goal mouth just past diving KU goaltender Julie Hanley.
"It's disappointing," KU middle defender and team captain Afton Sauer said. "I think we definitely dominated them and got unlucky."
Francis' description was a bit more graphic.
"It's sucks," the KU coach said, "but that's life sometimes."
A&M; (10-3-1 overall, 6-0 Big 12) arrived in Lawrence on the tail end of a wearying road trip. The Aggies played in Boulder, Colo., on Friday night, knocking off Colorado, 3-0.
"It wasn't our best performance," A&M; coach G. Guerrieri said, "but KU played really well. We were a little flat, but to go on the road in this conference and get two wins is really big."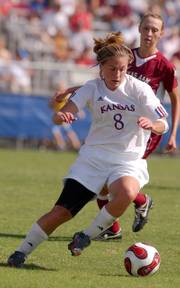 Sunday's loss was the Jayhawks' second in OT. Kansas opened conference play with a - what else? - 1-0 loss at Oklahoma State in two OTs. During their six-game skein of 1-0 games, the Jayhawks also have lost to Creighton and Texas while edging Oklahoma and Nebraska.
Francis had been livid about his team's desultory performance on Friday against Texas, saying his players lacked heart. On Sunday, he did an about-face, tossing many oral bouquets.
"This has to be a benchmark of what we're capable of playing like," Francis said. "If they (A&M;) are the best team in the league, then we're the second-best."
That's high praise for a team that has dipped to 7-6 overall and 2-3 in the Big 12.
"Unfortunately in soccer," Francis said, "you can do almost everything right and not win the game. That's the way it was today."
Kansas was credited with seven shots on goal, two by Holly Gault. A&M; goalie Kristin Arnold had the seven saves.
Upcoming is KU's last weekend road trip of the season. The Jayhawks will play at Iowa State on Friday night and at Missouri on Sunday afternoon.
Kansas' last three league games will be at home against Baylor (Oct. 20), Texas Tech (Oct. 22) and Colorado (Oct. 27).
Copyright 2018 The Lawrence Journal-World. All rights reserved. This material may not be published, broadcast, rewritten or redistributed. We strive to uphold our values for every story published.