Margaret Perkins-McGuinness heard success stories Sunday.
She wanted to bring Lawrence's ever-growing Latin American community into the heart of Lawrence - partially to connect with the larger local community, partially to connect with services they may be able to access easily.
"We wanted to provide resources and agencies that could benefit the whole family," said Perkins-McGuinness, coordinator with the Roger Hill Volunteer Center.
So, for the first time, the volunteer center and other organizers brought the annual Latino Fest to South Park - coupling community members with health and social services groups.
During the day, she said, the stories began to trickle in.
For example, a man approached the breast cancer awareness table set up along the park's walkway. He grabbed a few cancer awareness brochures - all printed in Spanish - because his mother died from breast cancer and he wanted his wife and sister to understand how to detect it.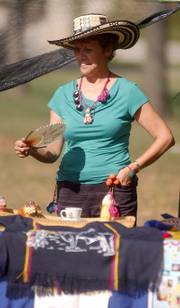 "I just thought, 'Oh, how wonderful,'" Perkins-McGuinness said.
And he wasn't alone. Of the 500 or so people who came to the afternoon festival, about half were Latin American, said organizer Lydia León.
León said that when the volunteer center and her organization, the Latino Community Coalition, brought the event to the park, she had no idea what the turnout might be.
"We weren't sure what to expect," she said. "Next year, it'll have to be bigger."
And maybe next year, someone could keep Christian Moody away from the jalapeños.
The day was packed with events and music - one of the highlights being the jalapeño-eating contest, where folks stared down thousands of Scoville units, unflinching.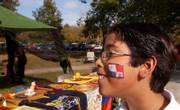 Well, maybe there was a little flinching. Moody, the former Kansas University basketball player, sat down at a table with a half-dozen other contestants, ready to scarf down peppers.
"I need the rest of this can next to me, so I can get some more," Moody said, pulling a half-can of peppers closer to him.
When the eating began, Moody won by just a hair. Afterward, he looked like someone maced him - eyes red and squinty, occasionally waving his tongue outside his mouth.
There also were plenty of tunes from the Peruvian group Taqui Sisicuna, a dancing troupe from Lawrence, and another Peruvian musician who played pipes and whatnot.
Plus, DJs spun Latin records while parents and kids, faces of all colors, danced along.
Copyright 2018 The Lawrence Journal-World. All rights reserved. This material may not be published, broadcast, rewritten or redistributed. We strive to uphold our values for every story published.