Manhattan — Ron Prince came into Manhattan vowing to build a "fast, tough and disciplined" team.
With the help of a handful of newcomers, he might be getting it done faster than expected.
"Fast" would be freshman running back Leon Patton, who got his first start Saturday after Prince demoted senior Thomas Clayton. Patton, displaying both speed and skill at following his blockers, repaid the promotion by running for 151 yards and a touchdown and returning a kickoff 95 yards for another score in a 31-27 comeback victory over Oklahoma State.
"When things aren't perfect and you have fast players," Prince said, "sometimes they can make some opportunities turn out very, very well."
"Tough" would describe the early going for another first-time starter, freshman quarterback Josh Freeman - and his response late in the game.
Freeman, who took over for Dylan Meier after Kansas State managed just one touchdown in losses to Louisville and Baylor, was sacked four times and got off just six passes in the first three periods.
But he was 6-for-9 passing in the fourth quarter and figured in both of Kansas State's late TDs. Freeman set up Patton's one-yard run with 3:04 to go with a 43-yard throw to Jermaine Moreira, then ran 21 yards for the winning score with 1:11 left.
"He won it with his mind, with his arm and his feet," Prince said. "He's a very poised kid."
And "disciplined," after some early lapses, also would be the performance of Kansas State's young offensive line.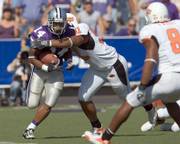 With Prince starting three freshmen up front - right guard Brock Unruh, right tackle Nick Stringer and tight end Jeron Mastrud - Oklahoma State linebacker Rodrick Johnson said before the game that he was "licking my chops."
But while Oklahoma State was able to pressure Freeman early, the Wildcats' linemen still managed to spring Patton for big gains. Late in the game, they delivered the protection when Freeman needed it.
"Our philosophy is to play well throughout the game, and when you have to perform, do it. Everyone was ready for it," Freeman said. "The line fought hard during the entire game, and the pass protection was great during that drive. When they do that, you just can't let them down."
The Wildcats (4-2, 1-1 Big 12) beat the Cowboys (3-2, 0-1) for the sixth straight time in Manhattan and the 10th time in their last 11 meetings.
"The way they played down the stretch, completing big pass plays and having big scrambles, it makes a difference," Oklahoma State coach Mike Gundy said. "It gave them a chance to win the game."
Kansas State's late comeback also gave the Wildcats momentum for this weekend's clash with No. 21 Nebraska.
"This really showed how we became a good team today," linebacker Brandon Archer said. "It wasn't perfect, but we did the job. The offense hung in there, and we stepped it up when we needed to."
Oklahoma State, which was coming off an idle week, gets another week to work on its end game before traveling to Kansas University.
"We were playing so good and practicing hard for two weeks coming into the game," quarterback Bobby Reid said. "You get knocked down in a game like this, but you have to keep working hard. I don't think we lost the game. I think that Kansas State won the game. They outplayed us. We didn't lay down, and they didn't lay down. They won it in the end."
Copyright 2017 The Associated Press. All rights reserved. This material may not be published, broadcast, rewritten or redistributed. We strive to uphold our values for every story published.