Nashville, Tenn. — It's almost become a maxim on Music Row: George Strait rarely does interviews.
And although he agreed to talk to the Associated Press via phone for the release of his new album, "It Just Comes Natural," when the questions began, the famously taciturn singer was true to form.
What made him want to record the first single, "Give It Away"?
"It's a little different. It's one of the neatest singles I've had out in a while, I think."
Why is it different?
"There's a lot of talking in the song, and it's different in that respect. It's a real cool-written song about a relationship breaking up."
And if he dwells on his 25 years of hits or his November induction into the Country Music Hall of Fame, he doesn't show it.
"Twenty-five years in this business is a long time, but it doesn't seem that long to me - until I look in the mirror," he said, laughing a little.
The new album, released this week, is classic Strait - a blend of honky-tonk, Western swing and barroom ballads delivered in his meaty baritone. He's pretty much followed course since his debut album "Strait Country."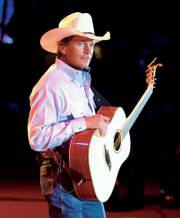 Yet while many of his contemporaries have faded, he remains a superstar. "Give It Away," an old-school country song with spoken-word sections, fiddle and twangy guitars, became his 53rd No. 1 single last month.
Strait, 54, says it all begins with a melody.
"It's hard to put my finger on one thing and say, 'This is what I'm looking for in a song.' I don't know exactly what it is. But when it strikes me, I know I want to go into the studio and cut it," he said.
He worked again with longtime co-producer Tony Brown, but this time they recorded a long way from Nashville or even Texas, holing up in a tiny studio in Key West, Fla. He got the idea while recording with Jimmy Buffett a few years ago.
"I thought it might be a good idea to try something different," he said. "You couldn't tell that we cut this down there - there's no island flavor at all - but we just had a blast doing it."
The son of a junior high math teacher, the Texas-born Strait started playing in rock bands in high school, but he switched to country while singing in an Army band (he enlisted in 1971 and served four years). He was heavily influenced by the Western swing of Bob Wills and the honky-tonk of Merle Haggard.
He came to Nashville in 1981, while country music was in the throes of a pop movement, and along with Ricky Skaggs and Reba McEntire was heralded as a neo-traditionalist reviving country's past.
But just as he was ascending to superstardom, his 13-year-old daughter, Jenifer, was killed in a car crash in 1986. The family was devastated, and Strait is said to have become a more private man after the accident.
Though widely perceived as a staunch traditionalist, Strait acknowledges outside influences in his music. A fan of classic pop crooners Frank Sinatra and Bing Crosby, he even recorded a duet with Sinatra in 1994. Songs such as his 2003 hit "Cowboys Like Us" have a soaring pop chorus behind the Western imagery.
"There have been songs that certainly couldn't be classified as traditional country," Strait said. "I've always just done the music that I felt comfortable doing, songs that I felt like I could sing and songs that I liked."
Copyright 2018 The Associated Press. All rights reserved. This material may not be published, broadcast, rewritten or redistributed. We strive to uphold our values for every story published.