Kansas City, Mo. — Hallmark Cards Inc., the nation's leading card company known for its traditional values, suddenly is rocking.
The company's new Sound Cards - the first line ever to use original songs from original artists - have young and old tuning into everything from Johnny Cash's "Ring of Fire" to the Royal Philharmonic Orchestra, Tim McGraw to the Rolling Stones.
Feeling frisky? Let Marvin Gaye tell your loved one, "Let's Get It On."
Unveiled with a trial run of two dozen designs about a year ago, the Say It With Music line expanded to more than 220 with a July release. Christmas will bring waves of seasonal cards, and while some cards tied to movies and TV - including "Star Wars" and "Law & Order" - already are available, a new wave will hit the stands in January.
While the AM radio-quality sound may not be a dramatic improvement over previous sound cards, the cards distinguish themselves by featuring recognizable music hits.
"These aren't cover bands and re-records," said Tim Bodendistel, one of three art directors for the line. "So the work to put out an offering of this size is amazing."
Hallmark hopes it pays off, boosting the bottom line of a company that had $4.2 billion in revenue in 2005. While the company won't say what percentage of that revenue is derived from the sale of greeting cards, it says that Sound Cards so far have fueled a 9 percent increase in sales of everyday cards compared to 2005.
Mila Albertson, membership services director for the Washington, D.C.-based Greeting Card Assn., said card sales generate about $7 billion a year, and that most of the industry's recent growth has centered on "high-end cards."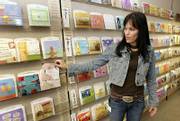 Hallmark's chief rival, Cleveland-based American Greetings Corp., is designing cards that include everything from sound and movement to lighting effects.
"Music cards are a nice innovation. We welcome anything that brings and growth to the category," said Sue Buchta, executive director of seasonal cards at American Greetings. "We're going to touch base with the consumer and find out what's important to them. Music might be one way to do that. Lights and motion might be another."
Hallmark designers also say the Sound Cards, which sell for $4.99, could help the company shed its staid image by resonating with teenagers and men, two demographics that traditionally have been difficult to reach.
The cards are one way Hallmark is attempting to keep pace with e-cards, text-messaging and e-mail while at the same time staying true to the traditional greeting cards the company was founded on, said Deidre Parkes, a spokeswoman for the Kansas City-based company.
Hallmark Top 10
With apologies to Billboard, here are the top 10 sellers among Hallmark's new Sound Cards, which feature original tunes from original artists - and, on this list, just happen to be featured in birthday cards:
Bad to the Bone (George Thorogood & The Destroyers)
Macho Man (Village People)
Celebration (Kool & the Gang)
U Can't Touch This (MC Hammer)
Star Wars IV: A New Hope (theme song from the movie)
Lady Marmalade (LaBelle)
Brick House (The Commodores)
Do You Believe in Magic (The Lovin' Spoonful)
I'm Sorry (Brenda Lee)
The Best (Tina Turner)
Two Sound Cards - featuring The Chicken Dance and Napoleon Dynamite - recently dropped off the list, but only because many stores sold out, said Deidre Parkes, a Hallmark spokeswoman.
- Mark Fagan, business editor
"We know card-sending has been, we say stable, you say flat," Parkes said. "We also knew as a company it was important to look forward. This is something we invested heavily in."
The 6-inch square Sound Cards appear fairly standard at first. But inside is a small computer chip powered by a three-volt lithium-ion battery - the kind used to back up computer motherboards and hand-held devices, a quick signal the recipient is getting more than just folded cardstock.
Most of the cards themselves are made at Hallmark's production plant in Lawrence, Parkes said, while the sound chips are added elsewhere.
The chip, similar to those used in children's toys, is connected by two small wires to a silver-dollar sized speaker. The entire unit is capable of playing clips up to 45 seconds long at least 200 times. Their shelf life? A minimum of two years.
The concept began about 18 months ago, when Hallmark pitched the idea to two record labels and were granted licenses for songs, innovation director Tom Esselman said. Other labels became more interested when they learned about the cards' sound quality.
Hallmark has licensing agreements with several record companies and publishing houses, though cards still need individual artists to approve. In the case of an upcoming Charlie Chaplin card, the company needed a dozen Chaplin heirs to agree to it.
Artists chosen for cards aren't always from yesteryear - although Parkes said Mike Love of the Beach Boys recently appeared on "Good Morning America," gleefully toting a card that plays "Kokomo."
In August, the creative team set up a giveaway booth at the trendy MTV Video Music Awards in New York, where art director Joan Orth said the cards aced their first real test.
"A creative crowd is always going to be a tough crowd," she said. "But I asked the (rock band) All American Rejects, 'You guys - would you guys be interested in being on the cards?' Because they loved them. And they said, 'Aw, yeah, that would be so cool!' "
Copyright 2018 The Associated Press. All rights reserved. This material may not be published, broadcast, rewritten or redistributed. We strive to uphold our values for every story published.