The image immediately conjured by the mention of remote-control aircraft likely is one of cute little toy.
Participants in the "Jayhawk Big Bird Fly-in" late last month at the Clinton International Model Airport defy that stereotype.
The Big Bird event - one of three major events held by the Jayhawk Model Masters at the field just south of Eagle Bend Golf Course in the shadow of the Clinton Lake dam - is designed for large-scale model airplanes.
Single-wing aircraft must have a wingspan of not less than 80 inches, while bi-planes must have a wingspan of at least 60 inches.
In other words, these bruisers are big.
"They have to be at least one-quarter scale of a normal plane," explained JMM president Hank Darnell. "They range from 10 pounds up to 55 pounds. Anything bigger than 55 pounds and you have to have special licensing. Fifty-five pounds : that's a big hunk of wood."
Darnell said 24 pilots signed up for the fly-in, which is more social gathering than competition. The Big Bird Fly-in was a two-day affair, and it drew pilots from Oklahoma, Nebraska, Kansas and Missouri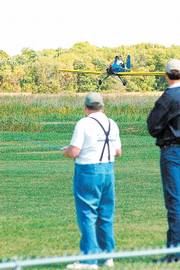 "It's just an opportunity to get together and host the field and invite fliers from all over the state to come fly," Darnell said. "You can have different themes. You can do warbird fly-ins, big birds : anything to attract fliers."
The Jayhawk Model Masters club has about 75 members, Darnell said. Members use the field just about every weekend, and there's a meeting the third Saturday of every month.
To use the field, a pilot must have Academy of Model Aeronautics insurance.
But he needn't pilot a plane like the behemoths that descended on Clinton International last month.
"Oh, gosh, that's just a subset of it," Darnell said. "There's control-line flying, R.C., free-flight, rubber flight. R.C. is the biggest part of the industry, but most of the planes flying are fun-scale planes, planes that fly well but don't necessarily fit the 80-inch minimum."
Does the added size add to the challenge of flying?
"It's certainly more challenging dollarwise," Darnell said with a laugh, noting one of the planes that took part in the Big Bird event cost well over $2,000.
Most planes, Darnell said, regardless of size came in kit form.
Club website
Visit the Jayhawk Model Masters website.
"Half are almost ready to fly," he said. "Somebody else builds it in another country. The other half is custom. You build out of a kit. You get a box of sticks, and you build it. Some of the guys we have are builders. Some like to build more than fly. There's some of both. That's part of the club."
One of the most popular planes at the Big Bird Fly-in was Topekan Ken Bina's single-wing Snoopy aircraft. The monster featured a remote-controlled Snoopy at the controls.
While Bina pilots the craft, another operator controls Snoopy, the "Peanuts" pet and World War I Flying Ace whose head swivels from side to side and can nod in response to questions from the P.A. announcer.
"That Snoopy plane," Darnell said, "was built in 1984, so those planes can last a long, long time. To see Snoopy move and nod his head : that's a lot of fun."
Copyright 2018 The Lawrence Journal-World. All rights reserved. This material may not be published, broadcast, rewritten or redistributed. We strive to uphold our values for every story published.