Dallas — Colt McCoy probably doesn't realize how quickly things have changed in the Texas-Oklahoma rivalry.
Not long ago, the No. 7 Longhorns were the ones getting outhustled, outcoached and flat-out beat.
Now, it's the No. 14 Sooners who are finding ways to lose - like having their best player give up on a loose ball near his end zone with the game still on the line in the fourth quarter.
Adrian Peterson thought the ball bouncing off his hands meant an incomplete pass, not a fumbled lateral. Texas cornerback Aaron Ross wasn't sure, but scooped it up and scored just in case, and wound up with the touchdown that sealed a 28-10 victory Saturday in the 101st edition of the Red River rivalry.
"I'm just sitting there like, 'What the, you know, is going on?"' Peterson said after the game, still puzzled by what happened.
Such confusion was typical for the Longhorns (5-1, 2-0 Big 12) from 2000-04 in their annual meeting with the Sooners. Between blowout losses and tight finishes, Oklahoma (3-2, 0-1) always made all the right moves.
Vince Young turned things around for Texas last year. McCoy kept it going this year.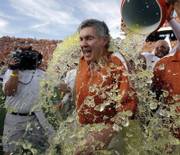 A redshirt freshman who watched Young from the sideline last year, McCoy overcame a slow start by throwing two perfect touchdown passes in the third quarter to turn a 10-7 halftime deficit into a 21-10 lead. Ross did the rest, following his head's up play with a pair of interceptions that ended the Sooners' final two drives.
McCoy's numbers were mediocre - 11-of-18 for 108 yards, plus 11 more rushing - but his poise was off the charts. He overcame an awful second quarter and never turned the ball over.
"When we've come out of this game with a huge deficit, it's usually been because of turnovers," Texas coach Mack Brown said. "Today, they lost five and we lost none. And that's why the game got to where it is."
During the five-game losing streak to Oklahoma, Brown was labeled as being outsmarted by Sooners coach Bob Stoops. He didn't even get all the credit last year's victory because Young soaked it all up.
This time, Brown made his mark by making sure the Longhorns didn't let one rough patch overwhelm them.
Texas let an early 7-0 lead slip away by giving up a touchdown and a field goal on Oklahoma's final two drives of the first half.
Copyright 2017 The Associated Press. All rights reserved. This material may not be published, broadcast, rewritten or redistributed. We strive to uphold our values for every story published.