Dave Berkowitz and his son, Jack, tighten the metal-pipe frame with an Allen wrench.
Then, they wrap canvas material around the frame. It's complete with a door, window and Hebrew writings inside.
Finally, the Berkowitzes put on a bamboo roof - with slits wide enough to see the stars, as is custom.
In just a half-hour, the family's back deck has become the site of a sukkah - a hut used to celebrate the Jewish holiday Sukkot, a joyous time that starts tonight and lasts seven days.
"It's the most joyful week of the year," says Rabbi Zalman Tiechtel of Kansas University's Chabad Jewish Center. "We're supposed to smile a lot, and to sing and dance."
Social time
Sukkot - pronounced "sue-COAT" - commemorates the 40-year period that, according to Jewish scripture, the Jewish people wandered in the desert, living in temporary shelters.
It also is a harvest festival, centered around fall foods such as squash and apples.
Sometimes, the sukkahs are decorated with gourds, lights or other adornments.
Photo Gallery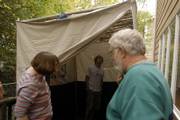 Sukkot
Traditions vary, but Jews eat some or all of their meals in the sukkah during Sukkot. Often, they invite friends to visit their sukkah during the holiday.
Part of the holiday is tied to Jewish appreciation of being in the outdoors.
"We share this with friends and other people," says Katherine Berkowitz, Dave's wife. "It's community-centered, like most Jewish celebrations. It's a friend and community effort."
Super sukkah
The construction of sukkahs varies widely.
Tiechtel says some of his neighbors in Brooklyn, N.Y., where he is from, spent thousands of dollars building elaborate sukkahs every Sukkot.
At the Chabad Center, 1203 W. 19th St., workers have been busy constructing the largest sukkah in Lawrence - a 12-by-20-foot hut in the center's backyard.
Take part
What: Pizza in the Hut, featuring kosher pizza, Jewish music and traditional Jewish foods When: 5:30 p.m. Tuesday Where: Temporary sukkah north of the Kansas Union parking garage Info: www.jewishku.com or www.kuhillel.org
"You definitely have to have a sukkah; it's central to the holiday of Sukkot," says Charles Goldberg, a KU sophomore from Chicago who was helping build the sukkah last week. "Never in my life have I seen a sukkah this big. A lot of work went into this."
The sukkah has a wooden frame, will be wrapped in a tarp and covered with bamboo.
Goldberg says the social time is of special importance because it follows Rosh Hashanah, the Jewish new year, and Yom Kippur, the somber Jewish holiday of atonement.
"This is the party after the serious beginning of the new year," he says. "We have a lot of dedication to our prayers and repeating the prayers. After a week of nonstop prayer, now it's time to party."
The Chabad center will have a community Sukkot open house any time Monday and Tuesday. It will join with KU Hillel for a Pizza in the Hut celebration Tuesday evening in an on-campus sukkah north of the Kansas Union.
Matt Lehrman, program director for KU Hillel, says he's hoping the on-campus sukkah raises awareness of Sukkot.
"It's another way for people to celebrate in a visible way," he says. "It's another way Jewish students can make their presence known at KU. It's for people to celebrate a holiday and share it with campus. It's open to anyone."
New awareness
Not all of the sukkahs are as elaborate or as large as the one at the Chabad center.
Dave Greenbaum ordered his on the Internet, at www.sukkah.com. The 4-by-6-foot tent cost $400.
"This is the first time" to have a sukkah, he says. "I've been to other people's before."
Learn more about sukkahs:
He and his partner plan to invite friends over for dinner next week.
"It's very social and very environmental," Greenbaum says. "It's the idea of dining out under the stars, just like my people have been doing for thousands of years."
Tiechtel says he's hoping the Chabad center - as well as a portable sukkah his organization is planning to set up around town next week - can raise awareness about a Jewish holiday that isn't as well-known as Rosh Hashanah or Yom Kippur.
"People don't know about it," Tiechtel says. "But many Jews in Lawrence, and KU students, miss it. It's a special family holiday."
Copyright 2018 The Lawrence Journal-World. All rights reserved. This material may not be published, broadcast, rewritten or redistributed. We strive to uphold our values for every story published.